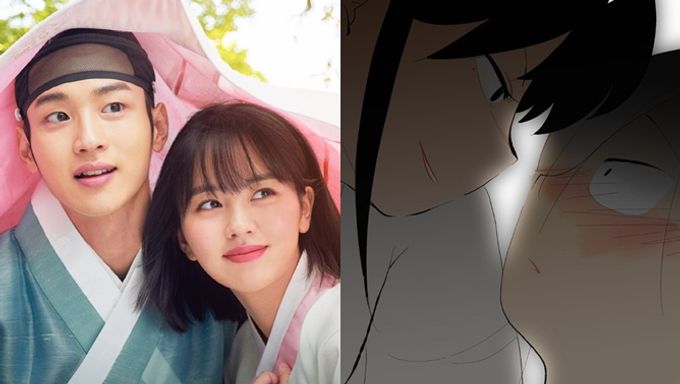 "Tale Of NokDu" (in Korean "녹두전") is a romantic comedy drama set in Joseon. It joins the numerous list of other dramas of 2019 based on webtoons. The webtoon started in 2014 and has been receiving a lot of attention and a high score in Naver webtoon.
Many were excited at the announcement of this drama! Kim SoHyun had been cast for the lead role. The actress was seen in 2 dramas this year and the two of them based on webtoon: this one and "Love Alarm". She starred in dramas such as "Who Are You: School 2015" (2015), "Ruler: The Owner of the Mask" (2017), and "Radio Romance" (2018). She is a well-loved Hallyu actress moreover she has acted in various historical dramas before.
Jang DongYoon is the lead actor. He gained popularity through dramas "School 2017" (2017), "A Poem a Day" (2018), and "Just Dance" (2018).
Many are curious to see the chemistry of the two of them. The plot is also interesting because it is not a girl disguising herself as a man but a man disguising himself as a woman.
Here is more information.
Tale Of NokDu (2019)
Information
Title: Tale Of NokDu/Mung Bean Chronicles/Mung Bean Pancake/Nokdujeon/녹두전
Director: Kim DongHwi
Writer: Im YeJin, Baek SoYeon
Network: KBS
Runtime: From Sep. 30 2019
# of Episodes: 32
Language: Korean
Summary
It tells the romance between a man who is disguising as a woman to infiltrate a community for widows and a girl that hates the idea of becoming a gisaeng.
Cast
Kim SoHyun as Dong DongJoo
She is a trainee to become a gisaeng but she hated the idea of becoming one. She cannot bear to see injustice.
She was about to leave the gisaeng house when she met a suspicious person.
Jang DongYoon as Jun NokDoo
When he was young, he wanted to become a general. He is smart and good in martial arts. However, things did not turn the way he wanted.
He disguises himself as a woman and infiltrates a community for widows. He is hiding a huge secret.
5urprise's Kang TaeOh as Cha YoolMoo
He is a sexy man who cooks. He is enjoying a leisurely life. He is winning women's heart.
He cannot stop looking at DongJoo.
Song GeonHee as Jun HwangTae [supporting role]
He is the elder brother of Jun NokDoo. He is a sweet brother.
Teaser & Posters
Here is the first teaser.
Here are the official posters.
Interesting Facts
Here is the webtoon link in Korean. It is not officially available in English. Here is a glimpse to it.
Kim SoHyun posted about the drama on her Instagram.
https://www.instagram.com/p/Bvxy7sdHQIW/
If you want to check the webtoon's description of the main character you can below.
Dong DongJoo: An 16 years old girl. She is from the Gisaeng House. She is the only one of her classmates that has yet to have her flower bloomed (to lose her virginity). She is thinking more about the Gisaeng house's future than her own.
Jun NokDoo: An 18 years old man and his real name is LeeDuk. He was preparing to get married but ran out of his house because the bride was only five years old. To escape from his family, he changed his name and dresses like a girl. He doesn't dislike the fact to dress like a girl. He then can have a look at women taking a bath in the valleys. He is very active but he tries to control himself. He looks very pretty as a woman.
Jun HwangTae: He is the elder brother of Jun NokDoo and is 20 years old. His character is a person with a clear mind and a warm heart. He is 180 degrees different when he smiles or not. He is serving Dong DongJoo. He is pretending to be a servant.
Read More : 14 Dramas Of 2019 Based On Webtoon