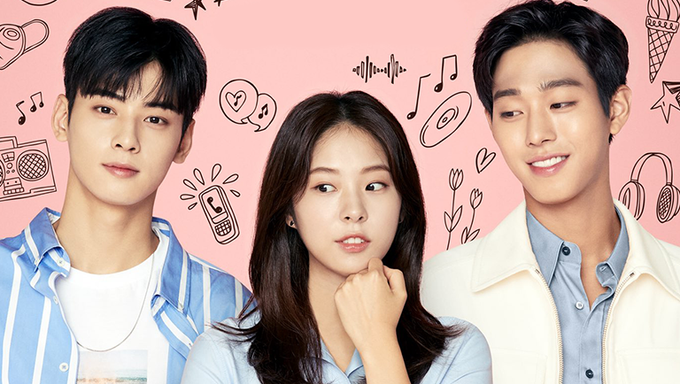 Welcome the first Korean drama to be produced and air on You Tube.
This web drama has an awesome young cast. It is already grabbing attention from fans all over the world as ASTRO's Cha EunWoo is one of the main characters (along with Ahn HyoSeop). Cha EunWoo previously acted in "Hit the top" (2017) and the popular drama "My ID Is Gangnam Beauty" (2018).
The cast are all young and have nice visual. Also, most of the actors are linked to music to match the story of the drama.
Here is more information.
Top Management (2018)
Information
Title: Top Management/tab maenijimeonteu/탑 매니지먼트
Director: Yoon SungHo
Writer: Based on an internet novel
Network: You Tube Premium x 1theK
Runtime: October 31st 2018
# of Episodes: 16 [3 episodes free then you need to subscribe]
Language: Korean
Summary
In an entertainment company, a new manager has the ability to see the future, and thanks to that ability she brings success to the business. The 4 boys are part of the group S.O.U.L. [Sound Of Ultra Light] and they are going to debut with the help of this manager.
Cast
ASTRO's Cha EunWoo as YeonWoo
An idol with a soft smile. The visual center of S.O.U.L.
Seo EunSu as EunSung
A manager with foresight. She was a trainee.
Ahn HyoSeop as SooYong
He loves music. The new trainee of Starlight Entertainment. He lived in Mongolia.
Jung YooAhn as TaeOh / Teo
He is the leader of S.O.U.L.
Bang JaeMin (also called a.mond) as I-Rip
He is the maknae and rapper of S.O.U.L and he has swag.
Interesting Facts
Here is one of the teaser.
 Here is the official poster.
You can follow the group on their Instagram.
https://www.instagram.com/p/BodrDRPhOb_/?taken-by=soul.starlight
Read More : Unit S.O.U.L Profile: The 4 Flower Boys Of Hot YouTube Drama "Top Management"