Actress Kim SoHyun, 20 years old (Korean age) is saying warm words to people of around the same age as her.
The girl has been on her own web reality show traveling in the U.S., titled "Because This is My First Twenty: Kim SoHyun's YOLO SOLO California" (Lifetime). It is the first time she travels to the U.S. and she shows how she matures during that experience.
On the episode of November 13th, she was in Las Vegas. Kim SoHyun went to one of the top three night scene attractions in Las Vegas: Fremont Street.
There, she rode zip-line. At first, before riding it, she said that she was not nervous even though she did not really have experience in going to attractions before. She confessed that the scariest for her was the Pirate Ship attraction. But then as the time of her turn came closer, she started to feel scared. In the end, the actress enjoyed the ride despite all the worries.
Then the actress had an interview where she said words that warm the hearts of many people and especially young people that have few experiences in life and that are facing situations where it is their first time doing something. As Kim SoHyun was talking about how much she worried before this trip and others, she said that she realized that once arrived in the U.S. "It is okay to make mistakes" and "If I didn't know, everything went well. I thought it was fine as long as I was happy."
The actress then started to film a video letter for people in their twenties like her: "Rather than fearing, I hope they take action. You can still take away something from the process even if you fail. Through that process, you'll become more mature. And I hope that through such process you become happy".
With such wise and warm words, she supports young people that have many worries at doing something for the first time.
You can have a look at the episode with English subtitle below. The letter starts at 8:55.
 The show has ended and now fans are waiting for her next drama "Love Alarm" (2019).
Read More : Actress Kim SoHyun Introduces "Her Friend" On Instagram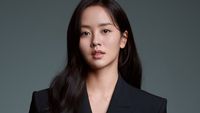 Became a fan of Kim SoHyun
You can now view more their stories