EXO's Kai will debut as an actor through the drama "Andante"
What a exiting news for yall! Finally we can see Kai's handsome face on drama. Drama "Andante" where EXO's Kai will play a main role recently comes to the surface. Still, There are a few month before "Andante" is on the air, fans' expectation seems quiet unbearable. 
According to a KBS staff on 12 July, "Andante" is decided to be aired in KBS1 early in October, 2017. When to be broadcast is not fixed yet, but with lots of ideas, they are considering it very flexibly. Andante will cover teenagers' growing story which includes pain, happiness, and many emotions. Especially, "Andante" has grabbed attentions from lots of fans because Korea's top idol EXO's Kai is revealed to appear in this drama. Also, thanks to Kai, before the start of drama, "Andante" already finished making contracts with Asian nations, European nations, and many other countries all around the world except for China. As you know above, "Andante"'s success seems to be promised for Kai.
Must Read : "Andante" Staffs Praise EXO's Kai for His Attitude on Drama Set
"Andante" will be broadcast from early in October with 52-minuted story for each episode.
Andante
Information
Title: Andante/ 안단테
Genre: Drama, romance
Director: Park KiHo
Writer: Park SunJa, Kwon KiKyung
Network: KBS1
Runtime: 2017
Air time: TBA
# of Episodes:  16
Language: Korean
Summary
Typical city boy ShiKyung moves to country side and overcomes unfamiliar and alarming things. Finally He realizes valuable life and the real meaning of love through his growing pains.
Cast
Kai as Lee ShiKyung
Lee ShiKyung, who have deceived his mom so far, is forced to move to country side from Seoul. He is the ordinary 18-years old high schooler. With attractive defying charms, Kai will show his complicated emotion and mind while he comes through lots of tremendous changes and challenges.
Lee YeHyun as Lee ShiYoung
Lee ShiYoung is Lee ShiKyung's sister.
Back CheolMin as Park Ga-Ram
Kim JinKyung as Kim Bon
Interesting Facts
First script reading took place January 13, 2017 at KBS Annex Broadcasting Station in Yeouido, South Korea.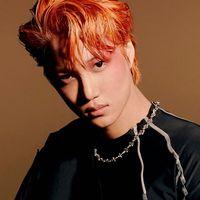 Became a fan of Kai
You can now view more their stories