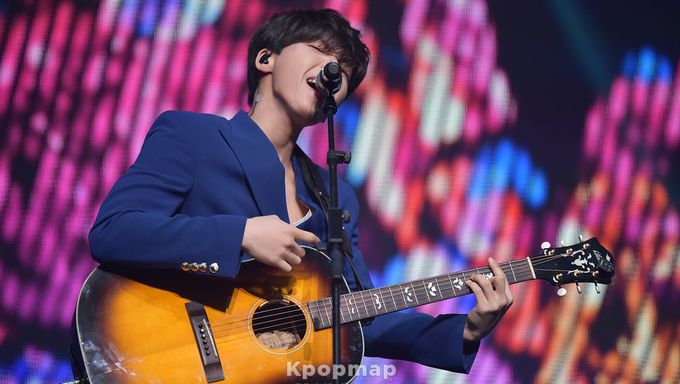 On Mar. 19, 2019, Starship Entertainment's "Singer-Song-Wridol" Jeong SeWoon, came back to his fans in eight months with a mini album "±0 (Plus Minus Zero)". His latest mini-album, according to Jeong SeWoon, claims to be a mixture of his own color in music melted into current trends in K-Pop and that he has put a lot of changes into his music compared to his previous works.
In order to find out, Kpopmap attended the media showcase to witness and record Jeong SeWoon's new exciting change in music. During the showcase Jeong SeWoon emphasized three keywords, so why don't we find out by looking into three "성(Sung)"s that were mentioned.
Growth(성장-Sung-jang)
The boy from Busan(Located far south of the peninsula) always had a great passion for music which led him to move to Seoul with just a guitar in his hand in order to pursue his music career(He later shared that it was one of the most memorable moments in his life). He signed with Starship Entertainment and participated in one of Korea's biggest K-Pop survival program, "Produce 101" Season 2.
After his appearance in the show, we all know that the boy from Busan officially started his music career and became the lovable musician that we know today.
Jeong SeWoon is also known as the "Singer-Song-Wridol"(a hybrid word of singer-songwriter and idol). During the showcase, he commented that he wants that name to be proven through his music and rather not by his image.
Like his comment, it was very clear that he had put an extra effort and passion to prepare for this album. For instance, he conducted the whole arrangement of one of the songs in the album called, 'White'. Moreover, he personally asked the vocalist from a famous Korean band, Jaurim for permission to cover one of their song, 'Going Home', which he later did.
It was evident that since his debut in 2017, he has gotten more actively involved in creating his own music, color and has grown as a better musician.
Maturity(성숙-Sung-suk)
He prepared for two songs for this showcase and the first song was 'DISTANCE'. The song tells you a story about a person who just had his break-up, going through hard times but trying to calmly accept his heartbreak. For the second performance, he prepared a live band to perform, 'FEELING'.
This album's title song, 'FEELING' is definitely the tune that his fans can tell the perfect balance between Jeong SeWoon's music and the current trend of K-Pop. The song is energetic but also has delicately expressed lyrics which is delivered through his amazing voice. The song is about a person who cannot help himself to express one's love to the person who he fell for, at first sight, wanting to ask her out right now! With its rhythmical acoustic intro, listeners can feel butterflies inside.
During a short interview after the performance, Jeong SeWoon mentioned that he wants to show his matured side through his music throughout his career and anyone can tell if you see his performance, he obviously has matured in every way as a musician. His live singing, posture, refined stage manners! He's got it all!
Success(성공-Sung-gong)
When asked what he wants to achieve through this album and his music, he answered that his definition in success is not focused on commercial success, but rather in how well he can express his thoughts and feelings through his music.
He added that being top on the charts may be important since it shows what the fans and public thinks about the music, he's not entirely focused on that part.
At the end of the showcase, he shared the media that he thinks that there are more days to come as a musician for him, and he wants to be a singer who doesn't drain out but rather who can gradually fill as time goes by.
Check out Jeong SeWoon's latest title, 'FEELING' and tell us what you think!
Read More : MONSTA X Praises Jeong SeWoon For His Hard Work Since Trainee Days
Became a fan of Jeong SeWoon
You can now view more their stories