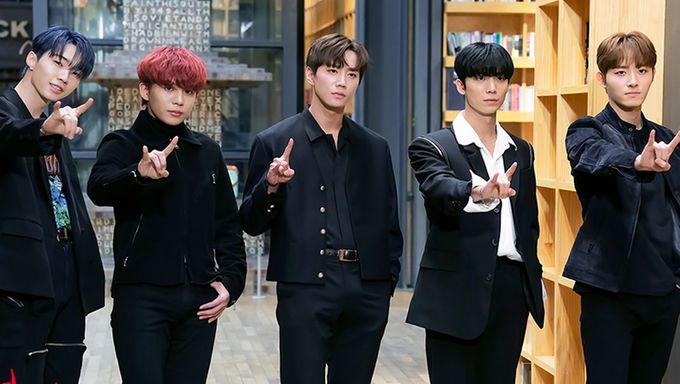 The fictional group SHAX from the K-Drama "Imitation" ranked 86th in the May idol group brand reputation ranking provided by the Korean Business Research Institute (data from April 23 to May 23, 2021).
The drama "Imitation" based on webtoon and starring  U-KISS's Jun (Lee JunYoung), Jung JiSo, T-ARA's JiYeon, ATEEZ's YunHo, SF9's Chani, g.o.d's Danny Ahn and more tells the stories of idols in the entertainment industry. The story is centered around top solo artist La LiMa and three groups Tea Party, SHAX, and SPARKLING.
SHAX is composed of Jun, ATEEZ's JongHo, SF9's HwiYoung, Park YuRi, Ahn JungHoon, and Chani as a former member. They are acting respectively Kwon Ryuk, Hyuk, LeeHyun, DoJin, JaeWoo, and EunJo.
Their official song 'MALO' is already released but their performance on "Music Bank" was postponed twice.
KBS has pushed far the concept of SHAX being a real idol group by creating an official Twitter for the group and a home master Twitter account. SHAX also had an ad for their 6th debut anniversary at Hongik University station (like a real group would have).
[📷]
샥스의 6주년을 축하합니다🎉
Congratulations on the 6th anniversary of SHAX🎉#SHAX #샥스 #권력 #재우 #이현 #도진 #혁 pic.twitter.com/NKzDtTUX9F

— SHAX 샥스 (@SHAX_twt) May 15, 2021
📸PIC

6-1=0
이미테이션 닷컴은 6샥스를 지지합니다. #은조야_아프지마 #은조야_기다릴게#이미테이션 #이미테이션닷컴 #샥스 #권력 #재우 #은조 #이현 #도진 #혁#IMITATION #IMITATIONDOTCOM #SHAX #KWONRYUK #JAEWOO #EUNJO #LEEHYUN #DOJIN #HYUK pic.twitter.com/jgbBq0DcTW

— 이미테이션 닷컴 (@IMTSdotcom) May 8, 2021
As for the drama "Imitation", it was ranked 10th most talked drama in the 2nd week of May and 5th in the 1st week of May by Good Data.
If you are curious about the fictional group, you can look at the profile below.