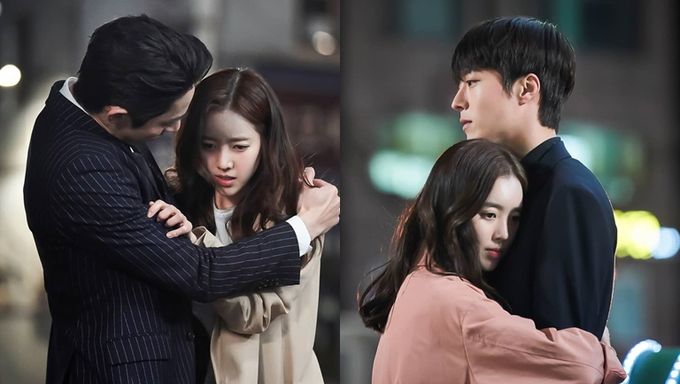 The mystery romance drama "Born Again" came to an end. Jang KiYong, Jin SeYeon, and Lee SooHyuk all acted perfectly and viewers could only notice their perfect chemistry.
The love triangle of the drama was intense and passion-filled. The two male leads loved wholeheartedly Jin SeYeon who had a hard time deciding who was the owner of her heart after reincarnation.
We have gathered 8 scenes where the three actors showed great chemistry. Let us know in the comment what do you think was the best scene according to you.
Be aware of major spoilers!
1- Jin SeYeon & Lee SooHyuk - Imagining Jin SeYeon in his bride-to-be's dress
One of the most unforgettable scenes was the one Lee SooHyuk imagined Jin SeYeon in the bride dress -instead of his real fiancee who was trying on the outfit for their upcoming wedding.
The look in Lee SooHyuk's face was saying it all.
2- Jin SeYeon & Lee SooHyuk - Saving her from drowning
In this scene, Lee SooHyuk came to the rescue of Jin SeYeon who was drowning. The chemistry of this scene was one of the highest with them holding tight their hands and looking at each other.
3- Jin SeYeon & Lee SooHyuk - Shooting date
Jin SeYeon and Lee SooHyuk went on a date and he taught her how to shoot a gun from close.
4- Jin SeYeon & Lee SooHyuk - Sweet reunion hug
Jin SeYeon and Lee SooHyuk had quite a lot of sentimental and emotional hugs throughout the drama and this one was particularly touching. It was their first encounter after she remembered her past life.
5- Jin SeYeon & Jang KiYong - Offering her a necklace
Jang KiYong was open about his feelings for Jin SeYeon. In this scene, he offered her necklace and directly put on her giving her butterflies.
6- Jin SeYeon & Jang KiYong - Wiping her tears
Jin SeYeon was talking about her complex feelings and Jang KiYong was listening to her. She explained that her heart was fluttering but also feeling a heartbreak at the same time for this man, and that she was in pain.
Jang KiYong: "It shouldn't be your heart that should stop beating. Don't look at that man anymore. It'll be okay if you don't look at him. I'll help you do that" and wiped her tears softly.
7- Jin SeYeon & Jang KiYong - Waking up
Jang KiYong let Jin SeYeon sleep in his house and slept outside. When she went out to wake him up, he grabbed her and asked her to "take responsibility" if he got a cold.
8- Jin SeYeon & Jang KiYong - Finding out she got hurt
If there is one thing that Jang KiYong can't see, it is seeing Jin SeYeon hurt and especially because of him. When he found out she got a little cut because of him, he was overly concerned.
Did you know that the actors also had good chemistry behind the scene? Check out the gifs below.
Which scene do you think they show their best chemistry?