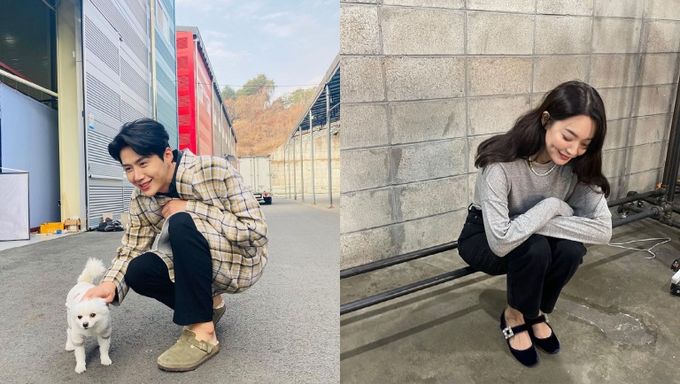 It is a common saying that the smile is the beauty of the soul. It has a ripple effect and has the potential to make another person smile who in turn does the same to another person. Smiling is kindness. There are as many different types of smiles in the world as there are people. Among them, dimpled smiles are some of the absolute prettiest!
With the popularity of Korean dramas, Korean actors are at the forefront of the Korean entertainment industry. They're always in the spotlight and fans all over the world, in millions, swoon over them. Today, we're counting down 8 of the prettiest dimpled smiles in the Korean acting world.
The heartthrob of everyone's dreams, Kim SeonHo has the most gorgeous smile ever. His dimple makes him stand out and adds to his already alluring charm.
Kim MyungSoo, also known as INFINITE's L, has always been popular for his dimple. In fact, it is so cute that even his co-actors can't help but swoon over it.
Hyun Bin is one of the hottest and physically fit actors in the Korean entertainment industry. However, his rough and tough masculine charm is complimented in a contrasting way by his dimpled smile.
Kim MinKyu is extremely good-looking and part of that credit goes to his dimple that gives him a puppy-like charm. We can't wait for more dramas where he is the lead actor!
5. Oh YeonSeo
Actress Oh YeonSeo has the beauty of a goddess. Her proportions, her visuals, her hair, everything about her is absolutely perfect without a flaw. The fact that she also has the cutest dimple only adds to it.
Shin MinAh is the undisputed dimple queen of the Korean entertainment industry. Her dimples are so iconic that they're almost always woven into the stories of her dramas somehow too. Who can forget the iconic dimple kiss in "Oh My Venus"?
7. Kang SoRa
Actress Kang SoRa might be a mother now but her face still has the innocence of a baby, especially with her adorable dimple. Its placement in an unusual place also adds to its charm.
8. Han JiMin
Han JiMin is another actress who is praised for her dainty and delicate beauty. Her dimples on both cheeks also amplify her pure visuals. When she smiles, you can't help but fall for her.