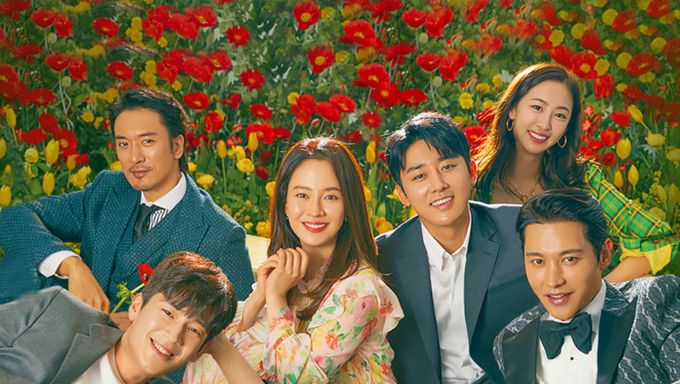 "Was It Love?" is a romantic comedy of the cable channel JTBC.
Song JiHyo is the lead actress. She is famous for being part of the regular cast of the TV show "Running Man" but also for her acting in dramas such as "Princess Hours", "Emergency Couple", "Listen to Love", "Love Horribly", etc.
Son HoJun ("Coffee House", "Reply 1994", "Mrs. Cop", "Confession Couple", "Dazzling"), Song JongHo ("A Girl Who Sees Smells", "A Korean Odyssey", "Arthdal Chronicles"), Kim MinJoon ("Hwarang: The Poet Warrior Youth", "My Sassy Girl"), and Koo JaSung ("Misty", "The Secret Life of My Secretary") are the lead male actors.
Former SISTAR member Kim DaSom is also acting as a lead in this drama, she previously acted in "Band of Sisters" and "He is Psychometric".
Here is more information.
Was It Love? (2020)
Information
Title: Was It Love? / Uri, saranghaesseulkka / 우리, 사랑했을까
Director: Kim DoHyung
Writer: Lee SeungJin
Network: JTBC
Runtime: From July 8
Genre: Romance, Comedy
# of Episodes: 16
Language: Korean
Summary
AeJung is a single mom and she has been single for 14 years when four differents and attractive men appeared in front of her: a bad but attractive man, a pathetic but popular man, a  young but heart fluttering man, and a scary but sexy man.
Cast
Song JiHyo as No AeJung
She is a passionate producer. She has a daughter.
Son HoJun as Oh DaeOh
He wrote a best-seller but he is also writing scenarios.
Song JongHo as Ryu Jin
He is an actor who has lead roles. He is a perfect Korean top actor.
Kim MinJoon as Goo PaDo
He is an investor in movies and the CEO of a financial company.
Koo JaSung as Oh YeonWoo
He is the biggest fan of No AeJung and a physical education instructor in a middle school.
ex-SISTAR's Kim DaSom as Joo AhRIn
She is a top actress and famous all around Asia.
Interesting Facts
Here is one of the teasers.
Here are the more official posters.
Read More : Top 23 Most Followed Korean Actresses On Instagram & 70 Other Actresses' Instagram