"Record Of Youth" already came to an end!
The drama was more a family drama than a romance drama but Park BoGum had a lot of sweet lines and romantic scenes with Park SoDam.
Park BoGum as Sa HyeJoon is kind, sincere, and hardworking. He is also a gentleman who is affectionate and devoted. The cute couple Park BoGum and Park SoDam is gonna be missed.
With the end of the drama, it is time to remember the sweetest scenes with the actor. Here are the 3 best romantic scenes of Park BoGum in "Record of Youth".
Be aware of spoilers! 
1- Happy dance in the rain
When Park BoGum just got his new car, they went on a date. It ended up pouring but instead of staying in the car, they both happily hugged and danced in the rain. It was a beautiful scene with great filmography.
Park BoGum's acting was great and viewers could feel his love and happiness to be with Park SoDam.
In the car, he did not forget to gave her a blanket and put on the heater.
2- Pull her under the umbrella and gave her his scarf
Before they started dating, Park BoGum and Park SoDam shared an umbrella to go to the bus stop. Park BoGum pulled her closer because she was getting rained on.
At the bus stop, he suddenly removed his scarf and tied it to her to keep her warm.
3- Asked her permission before kissing her
This kiss scene was passion-filled and one of the sweetest ever. After a date, they arrived at the car. Park BoGum opened the door for her. Once she sat, he asked her "There's something I want to do, but I need your permission first." He was asking for his permission to kiss.
What about you? What are your favorite scenes of Park BoGum?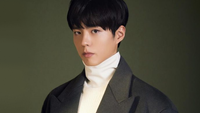 Became a fan of Park BoGum
You can now view more their stories