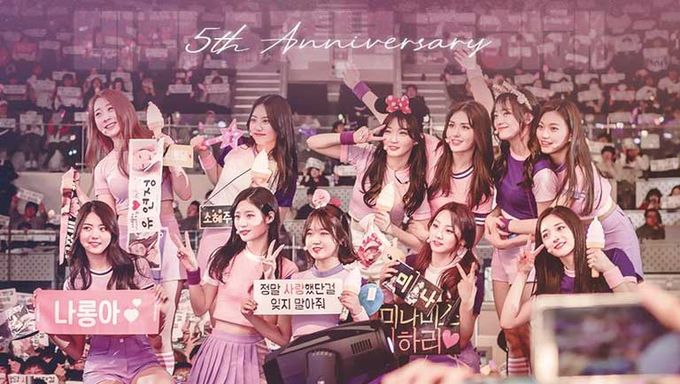 After disbanding in 2017, internationalIy cherished K-Pop girl group I.O.I has kept their promise to have a televised broadcast for their 5 year reunion. The live (called "I.5.I Yes, I Love It!") was broadcasted on May. 4 on streaming platforms KT Olleh TV, KT Seezn and TVING Live. 
Nine of the eleven members gathered on a talk show-styled stage, hosted by their robotic MC Robyeol, and greeted their fans warmly with their old group greeting. Unfortunately, MiNa was unable to join the live because of a schedule conflict and KyulKyung was unable to join because she is currently in China (however, she did appear in a video call). 
Seeing the members together in one place after such a long time has one wondering what they have been up to.
Leader NaYoung greeted fans as the 'forever leader' of I.O.I. Following the disband of idol group Pristin in 2019, NaYoung has since signed with entertainment agency Sublime Artist Agency and is focusing on acting and choreography production. She will be playing a supporting role in the new star-studded K-Drama "Imitation."
Zhou Jieqiong (known under Pristin as KyulKyung) could not make the live broadcast as she is currently in China working as an actress and singer. She managed to schedule time for a video call with the members during the live and it was clear that they miss her. NaYoung especially became emotional upon hearing her voice.
Member YeonJung is still active as the main vocalist and maknae of WJSN and recently had a comeback in March with huge success from their title track 'Unnatural.'
Jung ChaeYeon has been active as a sub-vocal in the girl group DIA. Their last comeback was in June 2020 with their 6th mini-album titled "Flowers 4 Seasons." They were also rumoured to make a comeback in 2021, but that has yet to be confirmed. ChaeYeon has been very active in her solo promotions. She even starred in the Netflix K-Drama "My First First Love" and its season 2 in 2019.
Next, we have member Jeon SoMi who has had a budding solo career since the disbandment of I.O.I.. She left JYP Entertainment and was offered several appearances on variety shows and even MCing opportunities. She is currently signed under The Black Label, having debuted with her hit single 'Birthday' in 2019. She has given fans a personal look into her life through a YouTube documentary series called "I Am Somi" that you can watch here.
Her most recent comeback was another hit titled 'What You Waiting For.'
The next member has reached extreme popularity in her solo pursuits. Kim SeJeong has even earned herself the nickname God SeJeong because it is believed that the limelight follows her no matter where she goes. After the disbandment of girl group Gugudan, SeJeong has been pursuing her solo career. She has recorded several solo singles - the most recent one was released in March 2021 and is called 'Warning' featuring Korean rapper Lil Boi. She has been doing several variety shows and advertisements, as well as acting in projects such as OCN's K-Drama "The Uncanny Encounter." Read more about the drama here.
The next member, Kang MiNa, was also a part of Gugudan with SeJeong. She unfortunately could not make the live broadcast because of her busy schedule. MiNa has taken on many advertisements and acting projects. She is currently filming for K-Drama "When Flowers Bloom, I Think of the Moon" starring actor Yoo SeungHo, HyeRi and Byeon WooSeok.
ChungHa is our next member and it is no mystery what she has been up to. ChungHa has become one of the most popular female solo artists with several hits songs to prove it. She has appeared in several variety shows and seems to always be busy, even if she is simply collaborating with other artists. Her most recent solo hit was 'Bicycle' released a month ago.
Our next member, Choi YooJung is active as the main rapper of Weki Meki. She has also been taking on acting roles. Her most recent role was as a main character in the K-Drama "Melo Not Solo," also known as "Single & Ready To Mingle."
Member Kim DoYeon, is also a member of Weki Meki with YooJung. She has also been very active as a model and actress, and has an exciting supporting role in the much-anticipated upcoming K-Drama "My Roommate is a Gumiho."
Weki Meki's latest comeback was 6 months ago with the edgy song "Cool."
Our final member, Kim SoHye has been thriving as an actress since the disbandment. Her most recent web drama is called "Ask Miss Shin" and can be seen on Naver TV.
The broadcast consisted of interacting with fans, recollecting old memories during their promotion period in I.O.I., and a lot of dancing.
We're excited to see what kind of projects each of the members have ahead of them.
Check out this cute TikTok that the members made of their hit song 'Very, Very, Very':