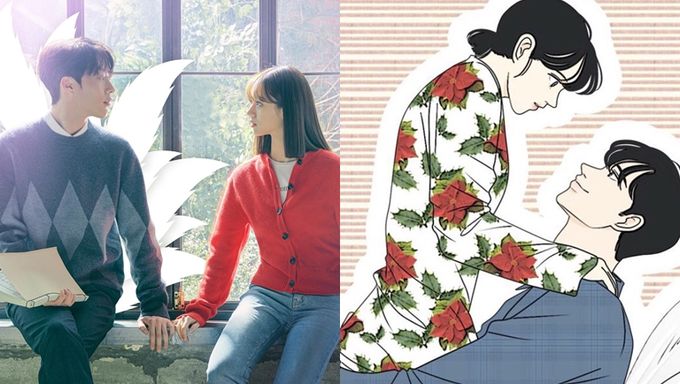 "My Roommate is a Gumiho" (or "A Falling Cohabitation" in Korean) is the drama adaptation of the fantasy romance webtoon of the same name. It is one more drama of 2021 to be adapted from webtoon.
Jang KiYong is the lead actor. His popularity rose while showing his perfect acting in dramas such as "Come and Hug Me", "Kill It", "Search: WWW" and "Born Again". Many are looking forward to seeing him acting as a gumiho.
HyeRi is the lead actress. She is a popular actress that starred in dramas such as "Hyde Jekyll, Me", "Reply 1988", "Entertainer", "Two Cops", and "Miss Lee".
Kang HanNa ("Moon Lovers: Scarlet Heart Ryeo", "Start-Up"), Kim DoWan ("At Eighteen", "Start-Up"), and Bae InHyuk ("XX", "Kiss Goblin") are part of the cast.
Here is more information.
My Roommate is a Gumiho (2021)
Information
Title: My Roommate is a Gumiho/A Falling Cohabitation/Frightening Cohabitation/A Terrifying Cohabitation/Gan tteoreojineun donggeo/간 떨어지는 동거
Director: Nam SungWoo
Writer: Park SunWoo and Choi BoRim based on the webtoon by Na
Network: tvN, iQIY
Runtime: From May 26
# of Episodes: 16
Genre: Fantasy, Romantic comedy
Language: Korean
Summary
It is about a 999-year-old gumiho (Korean nine-tailed fox) and a cool female university student born in 1999 who got to live together because she swallowed the gumiho's fox orb by mistake.
Cast
Jang KiYong as Shin WooYeo
WooYeo is a 999-year-old gumiho born during Goryeo who is about to become a human. He tried a lot of jobs and he is now a humanities writer.
This handsome and smart gumiho has been collecting human energy in his fox orb for the past 999 years.
HyeRi as Lee Dam
Dam is a cool university student who swallowed WooYeo's orb by mistake.
She entered the university in 2018. She is the type to say what she thinks and she is determined. She doesn't care about others and is strong in her ideas.
Her life motto is "Life is made by ourselves". Dam wasn't interested in dating but she falls in love. She would never have thought that her first love would not be a human.
Kang HanNa as Yang HyeSun
HyeSun is a former gumiho who is officially 22-year-old but in reality 747-year-old. There are a lot of things that she doesn't know, she is not the smartest.
HyeSun is a friend of WooYeo, they have been friends since Goryeo Dynasty. She became a human before him maybe because she enjoyed more her time with humans.
Since she has become a human, she has met many men, but they were more fox than humans. She can't even remember what is sincere feelings but she kept on being linked with Dam's friend JaeJin.
Kim DoWan as Do JaeJin
JaeJin is Dam's best friend who also entered the university in 2018.
The 22-year-old is a sweet and kind guy who has a pure heart. He kept on being dumped because he is too soft.
He kept on meeting foxes in the past, and now he kept on being linked with a former gumiho HyeSun.
Bae InHyuk as Gye SeonWoo
SeonWoo is a student of the Science and Technology department (entered the university in 2017). He is a sunbae (senior) who has everything (handsome, rich, smart) and dates many girls. He is famous at the university.
He was charmed by Lee Dam's iron wall charms because she is acting so different from the others.
Posters and Teaser
Here is the teaser of the first episode.
Here are the official posters.
Here is the first released picture.
About the Webtoon
For those of you who want to read the webtoon, you can here in Korean and here in English. It was recently released in English. The webtoon is written by Na and started in 2017. The webtoon is rated 9.97 on Naver.
GOT7's YuGyeom recommended the webtoon to fans back in 2017. We previously covered the cast desired by Koreans for the adaptation you can check it here.
According to the webtoon, here are the descriptions of the characters.
Shin WooYeo: Shin WooYeo is a gumiho born in 1117. He is a writer. He has a calm personality with a cold voice. He is trying to become a human.
Lee Dam: Lee Dam has never dated anyone and is a 24 years old university student. She likes to advise her friends about their love relationships. She is an easy-going girl with humor.
Gye SeonWoo: Gye SeonWoo is a university student that just came back from his military service. He is rich and handsome so he is very popular with girls. He is so popular that he is a trash that does not care about the girls he dates. In 3 years, he dated more than 30 girls.
However, he falls in love with Dam by accident after making a bet with his friends to make her like him. She is the only one who shows no interest in him when all the girls fight for his interest.
Here is more from the webtoon.