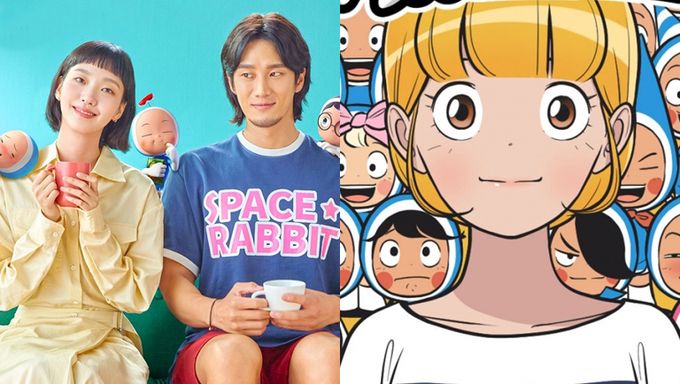 "Yumi's Cells" is an awaited drama of 2021 because of its cast lineup and because it is based on a popular webtoon. It is one of the numerous dramas based on webtoon this year.
The top actress Kim GoEun is the lead actress. She previously acted in dramas such as "Cheese in the Trap", "Goblin", and "The King: Eternal Monarch". Fans have been looking forward to her next project.
Ahn BoHyun, Lee YuBi, and Park JiHyun are also part of the cast. Ahn BoHyun ("Her Private Life", "Itaewon Class", "Kairos") is a rising actor as for Lee YuBi, she is known for her acting in "Pinocchio", "The Scholar Who Walks The Night" and "A Poem a Day". Park JiHyun acted in dramas such as "My Secret Terius", "Rookie Historian Goo HaeRyung", and "Do You Like Brahms?".
"Yumi's Cells" filming started in the first half of 2021 and the drama will have multiple seasons. It will be released on TVing and tvN.
Here is more information.
Yumi's Cells (2021)
Information
Title: Yumi's Cells / Yumiui sepodeul / 유미의 세포들
Director: Lee SangYeob
Writer: Song JaeJung, Kim YoonJu, Kim HyungRan based on the webtoon "Yumi's Cells" by Lee DongGeon
Network: TVing x tvN
Runtime: From September 17
# of Episodes: 14
Genre: Comedy, Life
Language: Korean
Summary
It tells the relatable story of YuMi an ordinary office worker in her 30s from the perspective of the cells of her head.
Cast
Kim GoEun as Kim YuMi
YuMi is an ordinary office worker in her 30s who is not good at expressing her emotions. She is growing up through love and work and starts seeking happiness from the small things.
Ahn BoHyun as Goo Woong
Goo Woong is a man who has no emotion in everything however he is a romanticist. He is an honest and simple game developer who wakes up YuMi's love cells.
Lee YuBi as Ruby
Ruby is a colleague of YuMi. At first, they saw each other as rivals but as time passed by they started to be best friends. She is the master of various love techniques and in front of love, she turns into a fox. She is also warm-hearted and takes good care of people she cares for.
Park JiHyun as Seo SaeYi
SaeYi is a friend and colleague of Goo Woong who is pretty, smart, and ambitious. She dreams to be the best game art director. Because of her ambiguous friendship with Goo Woong, she appears as the rival of YuMi.
SHINee's MinHo as WooGi [special appearance]
He is a colleague of YuMi and she has a one-sided crush on him.
GOT7's Park JinYoung (in talks) as Yoo Babi [season 2]
He is YuMi's second boyfriend.
Teaser & Poster
Here is the first teaser.
Here are the official posters.
About the Webtoon
The webtoon "Yumi's Cells" (in Korean "유미의 세포들") is created by Lee DongGeon. The webtoon has 3.2 billion views accumulated. You can read the webtoon in Korean and English.
Have a glimpse at the webtoon below.