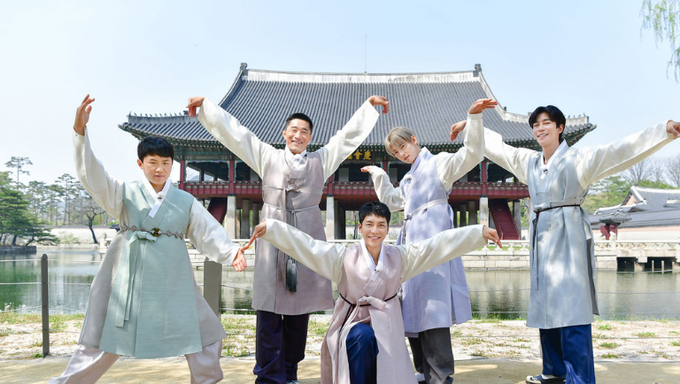 Korea is unmatched when it comes to Korean movies and K-Dramas, but they are also amazing at producing entertaining variety shows featuring some of your favorite celebrities. These are the shows to watch when you want to see the unscripted version of your faves.
These variety shows are super creative with unique concepts, which means that you get to see a different side to usually poised Korean celebrities. Some of them may bring out their goofy sides and others may show you talents that you didn't know they had. Some shows even showcase the lives of regular people in Korea. So, if you are generally into learning more about Korean culture, we suggest that you get bingeing after reading through this list. We've compiled a list of 10 Korean variety show recommendations, in random order, that you can add to your watchlist.
1. "Running Man"
"Running Man" is all about action and adventure in the city. The cast has to complete random challenges at a landmark to finish a race/competition. The goal of the missions is either to avoid punishment or to win prizes. The games include almost anything you can think of, from mafia-style games to shooting at each other's balloons with BB guns. The show also occasionally features guests, such as popular idols and actors. Two of the Korean celebrities who have the most appearances on the show include Apink member Son NaEun and 2PM member Nickhun. The cast includes Korea's beloved comedian Yoo JaeSuk, singer and entertainer HaHa, TV personality Ji SukJin, singer and actor Kim JongKook, actress Song JiHyo, actress Jeon SoMin, and comedian Yang SeChan.
Unfortunately, Lee KwangSoo has recently announced that he will be leaving the cast of "Running Man" after 11 years. He has decided to focus on his health due to injury-related struggles while filming the show. But don't despair, there are plenty of memorable Lee KwangSoo moments to relive on old episodes of the show - like the time he failed to get IZ*ONE member WonYoung's phone number. You can read more about that here.
2. "Master in the House"
"Master in the House" is an SBS show that airs every Sunday. The show is about a cast of Korean singers, actors, and entertainers who spend the weekend living with other famous people. These people may be athletes, singers, actors, or even professionals in a certain field. They become their 'master' for that field and show the cast their daily routines and what it's like doing their work.
The current cast consists of singer and actor Lee SeungGi (recently in K-Drama "Mouse"), famous comedian Yang SeHyung, Shin SungRok (from K-Dramas "Vagabond" and "The Last Empress"), retired MMA artist turned entertainer Kim DongHyun, and ASTRO visual Cha EunWoo. If you are watching some older episodes you may also notice former cast members actor Lee SangYoon and BTOB vocalist Yook SungJae. In the most recent episode, members rocked it out with members of the legendary Korean rock band BooHwal.
If you'd like to learn a lot about different lifestyles lived by the stars of the entertainment scene in Korea, this program is for you!
3. "Welcome, First Time in Korea?"
"Welcome, First Time in Korea?" is exactly what it sounds like. This show is all about foreigners visiting Korea for the first time. The show usually follows a foreign expat who already lives in Korea and has invited three of their friends from their home country to visit the Land of Morning Calm. The guests usually do some tourist activities, try Korean food, and get a slice of the Korean culture and lifestyle.
A panel of Korean hosts watch and give some commentary about their experiences. The current host panel includes comedian Kim JunHyun, rapper and entertainer DinDin, TV personality and announcer Shin AhYoung, and Italian TV personality Alberto Mondini. If you enjoy cultural exchanges and traveling, then this program is for you!
4. "The Return of Superman"
This KBS variety show "The Return of Superman" is for those who want to watch a wholesome slice of life. The show features the adorable babies and children of some well-known Korean celebrities and is filmed in a reality TV style with multiple cameras set up to capture every precious moment.
The current families that appear on the show include TV personality Sam Hammington and his sons William and Bentley, football player Park JooHo and his children NaEun (Eden), GeonHoo (Aciel) and JinWoo (Élyséen), singer and actor Hong KyungMin and his daughters RaWon and RaIm, actor Yoon SangHyun and his children NaGyeom, NaOn and HeeSung, and TV personality Sayuri Fujita and her son Zen.
"The Return of Superman" shows how diverse families in Korea have different experiences and it is completely heartwarming to watch the children grow up onscreen.
5. "Knowing Bros"
JTBC variety "Knowing Bros" is also known as "Men on a Mission" or "Ask Us Anything" and invites your favorite K-Pop idols, Korean actors and actresses, and athletes onto a school-themed set to do various activities. All of the hosts wear school uniforms and the set looks like a classroom. The hosts and guests mostly discuss personal topics and play games in teams.
The current cast includes former Korean wrestling champion turned comedian Kang HoDong, comedian and trot singer Kim YoungChul, comedian Lee SooGeun, former rapper Lee SangMin, former basketball champion Seo JangHoon, Korean rock band BUZZ's lead vocalist Min KyungHoon, and Super Junior's Kim HeeChul. Super Junior's ShinDong also makes guest appearances very often. Recent guests include Swings, Heize, and Lee HongGi from F.T. Island.
This is the perfect show to watch just after your favorite idols have made a comeback because they often use it as a promotion opportunity. Be sure not to miss it!
6. "Weekly Idol"
Currently hosted by ZE:A member KwangHee and Super Junior's EunHyuk "Weekly Idol" is one of the longest-running variety shows in Korea. Every week they invite K-Pop idol groups to promote their new music and do promotional activities ranging from random play dances (usually to medleys from their new album or whole discography), to quizzes with expensive Hanwoo beef as the prize, to speed dance challenges, etc.
The most recent episodes (as of May 2021) featured groups ITZY, ENHYPEN, and OH MY GIRL. Be sure to follow this show along with your faves' comebacks.
7. "Amazing Saturday"
"Amazing Saturday" is also known as "DoReMi Market" and is a tvN variety show where a different food market is selected for each episode. Each market will choose 3 representative foods that become prizes for the participants to enjoy on the show. To win, the participants must win the games that match that episode's theme.
The most popular game on this show is called 'Song Dictation' and involves participants trying to guess the correct lyrics for a small portion of a song that was chosen to play. If they get it wrong, there are rounds of penalties in place.
The current cast consists of rapper Boom, Small-mouthed Haetnim, TV personality Shin DongHyup, former MMA star Kim DongHyun, comedian Moon SeYoon, comedian Park NaRae, rapper HanHae, SHINee Key, rapper Nucksal, Block B's P.O., and Girl's Generation Taeyeon.
8. "Omniscient Interfering View"
This MBC variety show "Omniscient Interfering View" is a documentary-style talk show where they observe the lives of not only Korean celebrities but also the role that their managers play in their lives. We know that one of the essentials behind a successful star is an efficient manager. The panel invites the stars and their managers to watch their recordings together and tell any interesting stories behind what appears. The current panel consists of TV Personality Jun HyunMoo, comedian Lee YoungJa, entertainer Song EunEe, comedian Yang SeHyung, and TV personality Yoo ByungJae.
In a recent episode, Kang Daniel and his manager appeared on the day that they did a lucky draw for the staff members of his company, Konnect Entertainment. The prizes varied from first to ninth place and included things such as expensive fruit sets, Bluetooth headphones, and even the latest iPhone. Learn more about the perks of working at his company, here.
9. "I Live Alone"
MBC's "I Live Alone" is one of Korea's favorite variety shows as it showcases the lives of Korean celebrities who live on their own. It is an unscripted intimate look into the lifestyle of many stars, that would otherwise remain private. You get to see everything about them from the moment they wake up, the food they eat, their hobbies, and all sorts of oddities that they might not realize are being caught on camera.
The show alternates between inviting celebrity guests to feature and be observed, and also watching the hosts themselves. In fact, MAMAMOO's HwaSa was initially a guest on the show but her episode went viral because she broke the pretty idol stereotype by eating a Korean traditional dish made of small intestines (that most people didn't expect her to enjoy) and she was invited back to the show as a host. Other hosts of the show include comedian Park NaRae, webcartoonist Kian84, former Super Junior-M member Henry Lau, actor SungHoon, TV personality Jang DoYeon, model Han HyeJin, and singer Son DamBi.
10. "Mom's Diary: My Ugly Duckling"
SBS "Mom's Diary: My Ugly Duckling" is also known as "My Little Old Boy" and features the mothers of Korean celebrities and allows them to comment on footage about the daily lives of their sons. It puts into question just how well the mothers truly know their sons.
Hosted by Shin DongYup and Seo JangHoon, the boys in question are former rapper Lee SangMin, Super Junior's Kim HeeChul, entertainer Kim JongKook, actor Lee TaeSung, and singer Sung YuBin. Sometimes they invite K-Pop idols or K-Drama actors to watch as well, so keep an eye out for your faves in the extra seat!
Hopefully, these shows will allow you a closer look into the lives and personalities of your favorite Korean celebrities. If there are any other Korean variety shows that you really enjoy, feel free to let us know what they are! Happy bingeing!