For years, Beliebers and ARMY have constantly manifested what a collaboration between the two musical giants Justin Bieber and BTS would sound like, and guess what? now that dream is finally coming true!. It could be one of the biggest east meets west crossovers and fans are already going crazy with the thoughts of having a moment of pop-culture euphoria! As per a report in 'Page Six', "They are taking their time on it and going to make sure it is released right." Interestingly, this doesn't come as much of a surprise to many given that this musical collaboration is probably a result of the big merger between Justin Bieber and BTS' respective record labels. BTS' record label, 'Hybe', earlier known as 'Big Hit Entertainment', bought Scooter Braun's Ithaca Holdings for a reported $1 billion, which houses Justin Bieber, Ariana Grande, J Balvin, Demi Lovato, Thomas Rhett and Florida Georgia Line to name a few! In a YouTube video posted by 'Hybe' earlier this month about the deal, BTS members said they hope to "grow and share positive influence with all the artists" in Braun's stable.
BTS and Justin Bieber coming together for a song is indeed a huge thing as both are giants in the music fraternity. Having said that it's natural to be curious about what to expect from this song in the making. Let's give you an insight in to what awaits us.
1. It Can Be An Extended Version Of Justin Bieber's Recent Release "Justice"
It is being said that Justin Bieber and BTS are making a new song as an extended part of the former's recent release "Justice". Bieber's "Justice" has had two releases, Deluxe Edition and a Triple Chucks Deluxe Edition hitherto, the "Justice" Deluxe Edition has grabbed the top spot on the Billboards 200 charts and if we are to believe in what we are getting to hear, then "Justice" is here to stay and rule the charts for a long time. Earlier, BTS had publicly hailed Bieber as one of their music influences. While the 'Yummy' singer had also praised the K-Pop band calling them 'history makers' in a news segment. He had said, "The K-Pop group has been shattering records across the global music industry. From ringing in the New Year in Times Square to "Carpool Karaoke" with James Corden, they performed in Grand Central Station for "The Tonight Show" and wowed at this year's virtual "VMAs"." Seems like a mutual admiration society isn't it? So we gladly and confidently hope that the two luminaries of music will soon release a pop bomb to add to their success story!
2. Incredible Blend Of Amazing Vocals!
난 이노래가 좋더라 pic.twitter.com/AOy4ZWzSeF

— 방탄소년단 (@BTS_twt) March 21, 2020
BTS vocalist V, aka Kim TaeHyung, shared a new video a few days back on their official Twitter handle while jamming to Justin Bieber's track 'Intentions' from his studio album, "Changes". V is seen singing their latest albums while vibing to the music. He wrote, "I am liking this song." Also, it is no secret BTS' JungKook likes Justin Bieber a lot. The singer has shown his support towards the Canadian singer from time to time and Justin has reciprocated the same. While Justin Bieber's voice has a palatable smoothness and swings effortlessly from a placid chest voice to a zephyr of a falsetto, the BTS boys with a mixture of super interesting voice textures will only make way for outstanding music production.
3. A Great Music Video!
From Nicky Minaj to Halsey, Steve Aoki to Zara Larsson the Bangtan Boys have featured the best of collaborations till date. Be it the remix version of 'Answer', the remix of 'Mic Drop', or 'Boy with Love' featuring Halsey which, as a matter of fact became the fastest Korean boy group music video to cross millions and millions of views on YouTube. This K-Pop boy band continues to get bigger and bigger taking the internet by storm. Each collaboration has excelled expectations by virtue of the unique, outstanding production standards and creative genius of the music videos. We hope with Justin Bieber, the picture will get bigger and the boys will break all records yielding another super hit. The Music Video, needless to say, will surely be nothing less than dope! For now, the excitement is on and across the globe fans and followers are eagerly waiting to watch what the boys have in store for us.
Are you excited about this collaboration? Share your thoughts in the comments section below.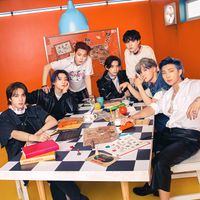 Became a fan of BTS
You can now view more their stories