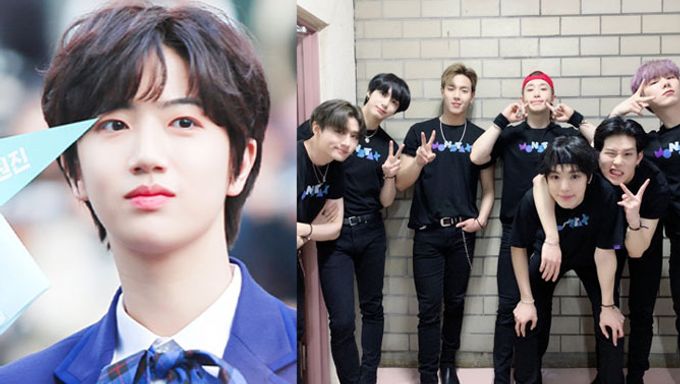 Have you been watching the last episode of "Produce X 101"? If you have, you would remember the now-famous scene where MONSTA X's JooHoney -who appears as a special trainer- taught Starship trainee Ham WonJin how to say "baksu" (or "Clap" in the English version) in a cool way.
For those of you who don't know, Ham WonJin was part of the team who performed 'Clap' of SEVENTEEN. He received advice from JooHoney who is also from Starship. Their interaction was priceless and memorable. If you haven't check it yet, you can below and you will understand why it became a hot topic.
🐝 박수!!!!!! 박쑤!!!!!!! pic.twitter.com/d5HQ3LcTIU

— 모카 (@mocca_mx) May 24, 2019
That was the first part of the story. To go on, on May 26, MONSTA X's HyungWon did a V-Live. Members and MONBEBE in the comments couldn't stop mentioning the "baksu teacher". HyungWon, KiHyun and ShowNu did the famous "baksu" during the live. Have a look at a fun editing of [a part of] MONSTA X members' version of "baksu".
넘 해보고 싶었던 오늘자 박수 몬엑ver. pic.twitter.com/JuuhUeYj5s

— 고북 (@hwckluv) May 26, 2019
With all this going on, netizens and MONBEBE could not forget trainee Ham WonJin. One netizen posted the hilarious story of "what will happen to Ham WonJin when he will go to Starship".
It goes ...
Someone says: WonJin-ah!
WonJin: Yes
JooHoney: Baksu
Someone says: WonJin-ah!
WonJin: Yes
ShowNu: Baksu
Someone says: WonJin-ah!
WonJin: Yes
KiHyun: Bakksuuu!
They are all from the same company!
Did you also like the story? What do you think will happen to Ham WonJin when he gets to see MONSTA X's JooHoney and the other members at Starship Entertainment?
Read More : The Reason Why Trainees Should Not Be Too Good In "Produce X 101"