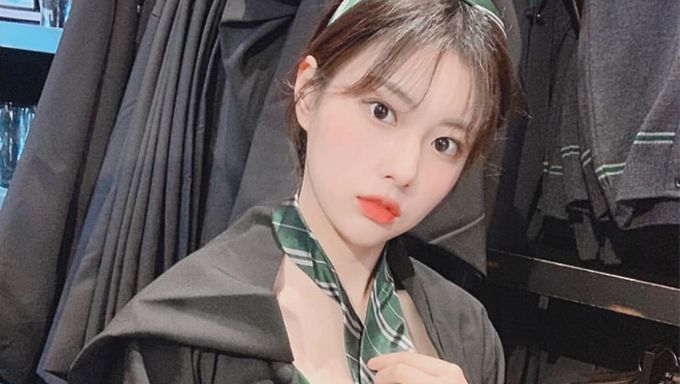 Are you a fan of the fictional wizarding world, "Harry Potter"? If you are, you are definitely in for a treat as Kpopmap had gathered 10 K-Pop idols who suits the 'Slytherin' house.
According to fans and how well they suit the house uniform, each of them appeared to have 'Slytherin' quality.
Let's take a below now!
Note: This is not a ranking.
Gifted with a 'Slytherin' uniform and a broom, HanSe looked ready to step into the wizarding world!
While we can't deny YeonJun's cuteness through this photo, we love how he looked like a character from "Harry Potter" while wearing the iconic house scarf and holding a wand.
3. Former IZ*ONE's HyeWon
Do you remember the time when IZ*ONE headed to Universal Studio Japan? The members had lots of fun and we also love how HyeWon looked so compatible with the 'Slytherin' uniform.
SiYeon looked absolutely stunning with a 'Slytherin' tie and while holding a wand! Perhaps it was thanks to her blonde hair, she reminded many of the character, Draco Malfoy from the story.
Although we do not have photos of Mino in a 'Slytherin' outfit, he is one idol who exude the qualities of someone from the house.
6. BTS's V
V was seen on many occasions with dark green outfits and accessories and we can't help but relate him to the house too.
If we are searching for a female K-Pop idol who suits 'Slytherin', Jennie is another perfect fit! Many fans mentioned that she would look gorgeous and yet, a somewhat rebellious student.
8. TWICE's Sana
This might come as a surprise for some but there was also saying that Sana has the look of a 'Slytherin'. Once again, many mentioned that with her gorgeous blonde hair, she would like amazing in the school uniform.
The adorable member of ENHYPEN, Sunoo is also on this list. While he had only debuted some time ago, many also noted how he would suit the house really well with his handsome visuals.
10. THE BOYZ's Kevin
How can we miss out on Kevin? During a fansign, he was presented with the 'Slytherin' uniform and we got to say there is no doubt he would cause even more fans to fall head over heels for him.