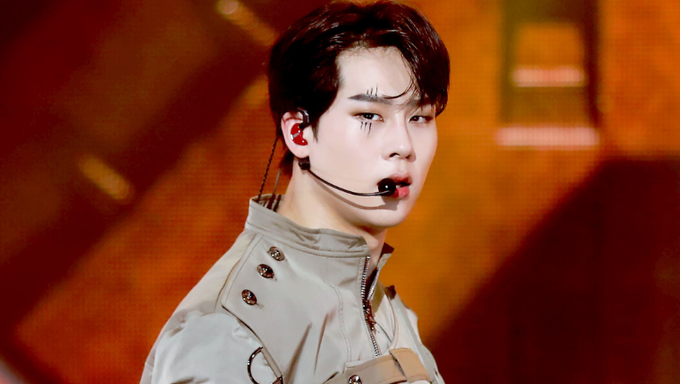 MONSTA X's JooHoney is known as one of the best rappers in K-Pop. He has a high sense of musicality and it translates in the way that he conveys his music.
In a recent article about the best live rappers in K-Pop, Kpopmap asked readers which K-Pop rapper is their favorite. As of Aug. 9, 2021, MONSTA X's JooHoney has 44.8% of the votes (with 1,110,145 votes). He is being recognized as one of the most liked rappers in K-Pop for his amazing talents!
So, we've decided to take a look at the evolution of MONSTA X's JooHoney's career. We will look at his career from his trainee days to his current status as a powerful rapper, idol, and music producer.
Trainee days to debut
MONSTA X's JooHoney was a trainee for 7 years before his debut. He was then put into a unit called Nu Boyz with other Starship trainees, MONSTA X's ShowNu, WonHo, and #GUN. In Dec. 2014, NuBoyz participated in the survival show "No.Mercy." JooHoney, ShowNu, and WonHo made it into the final group chosen from the show who would later become MONSTA X. MONSTA X debuted on May 14, 2015. JooHoney became the main rapper of the group.
In April of 2015, he participated in Season 4 of the famous rap survival program "Show Me The Money." This is mostly a competition for K-HipHop rappers but idol rappers sometimes participate, too. There is a stigma against idol rappers, especially on this show, and people often underestimate them. During his audition, JooHoney proved that he was just as good, if not better than the other rappers.
Unfortunately, JooHoney was eliminated in the third round, in a one-on-one battle against Lee HyunJun. He had a second chance but lost in another battle against rapper ONE.
"Show Me The Money," was not a defining moment in JooHoney's career but he proved that an idol could rap just as well as any K-HipHop rapper and gained idol rappers a bit more respect in the Korean rap industry.
In 2016, he went on to become the youngest producer on a survival show called "Tribe of Hip Hop," showing that he was making a name for himself as a talented rapper with a good musical ear.
Struggles with his image as a rapper
On a recent radio show called "Jun HyoSung's Dreaming Radio," JooHoney revealed that at the beginning of his career as a MONSTA X member, he was very stressed because he felt that people misunderstood his image.
As a rapper, he wanted to portray a powerful and strong image, but some fans and producers kept telling him that he was too scary. His company told him to reduce the amount of eyeliner that he used and to make his rap lyrics and style weaker. JooHoney confessed that when he thinks about it to this day, he still gets a bit sad.
This was around the time that he became known for his aegyo as it helped soften his image. When asked if he had anything to say to fans, he said that although he may have been scary and too excited back then, he is a very cute person now and hopes that MONBEBE will show him love.
Revealing his musical duality
Although his start was a little bit difficult, during his activities as a MONSTA X member his musicality shone through. As the members started experimenting with their musical styles, MONBEBE realized that JooHoney is not only a talented rapper, but also has incredibly smooth vocals. His voice especially suits R&B.
During their 2018 appearance on "Yu HuiYeol's Sketchbook," the group performed a cover of Bruno Mars' 'Versace On The Floor' and had fans shook at their ability to perform such diverse music. MONBEBE especially loved that JooHoney was breaking stereotypes as a rapper in the K-Pop industry by showing off his lovely vocal power.
MONSTA X has allowed JooHoney to show off that he is an all-rounder. He is a talented rapper, singer, and dancer.
Solo rap career
He released a solo rap music video called 'Rhythm,' in 2017. He used the song to show off his individual talents as a pre-release to his upcoming mixtape. It is hardcore and dark, almost like a message to anyone who doubts his rap abilities.
In 2018, JooHoney released a 5-track mixtape called "DWTD (Do What They Do)." He also released a music video for the song 'Red Carpet.' It is a groovy and rhythmic song that shows the softer side of JooHoney through his rap. It is a love confession through the combination of rap and vocals. He showed that his rap has many styles.
In Oct. 2020, he released another mixtape called "Psyche," with a title track of the same name. This track showed off the speed of his rapping and the sheer power that he has when he raps. The song shows the intense side of JooHoney's music. At this point, he had already gathered credits for composing some of MONSTA X's songs. He also composed and produced 'Psyche' himself.
Potential as a music producer
MONSTA X's JooHoney has several credits for writing lyrics, composing, and producing music, that he has accumulated over the years. He has written many songs for other artists, including collaborations. He has also produced or co-produced and created many of MONSTA X's songs.
His most recent accomplishment as a producer was MONSTA X's latest title track 'GAMBLER.' This was a huge achievement for him because it was his first time working on the title track for one of their albums!
'GAMBLER' has seen so much success, it's exciting to imagine what more JooHoney will achieve as a producer!
JooHoney has had a musical journey that started off with doubts. He overcame them and decided to show off his unique abilities, which made him stronger. He has evolved through his music and his character. What do you think of JooHoney's journey?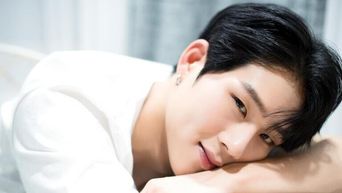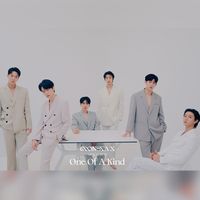 Became a fan of MONSTA X
You can now view more their stories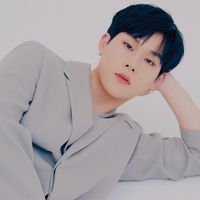 Became a fan of JooHoney
You can now view more their stories