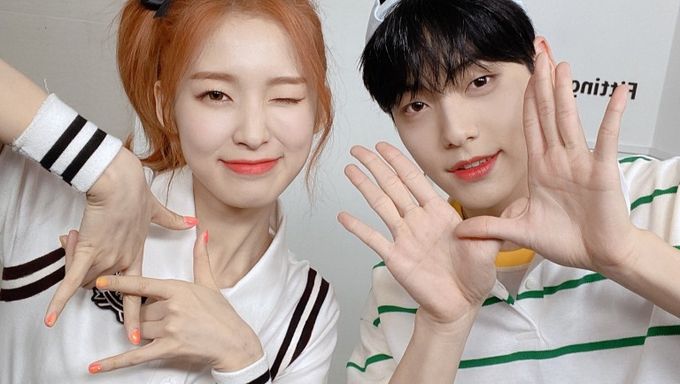 Starting from October 8, 2021, the new MCs for KBS' "Music Bank" will be ENHYPEN's SungHoon and Jang WonYoung, replacing TXT's SooBin and Oh My Girl's Arin. To start things off with a bang, both the new MCs are working hard to ensure that they give it their best. In addition, they will also be performing a special stage for their first-ever broadcast.
This also means that October 1, 2021, is SooBin and Arin's last day at "Music Bank" as MCs. With a heavy heart, fans are bidding them farewell and welcoming the new MCs with open arms. Considering that SooBin and Arin were loved by every single artist that they interviewed as well as fans, it is a touching moment to see them as MCs for the last time.
Here's how fans are reacting to the change!
fridays were made better by SOOBIN. it was a great yr seeing him grow as an MC! from a clip of him practicing with a pen... to the trending dolphin cult... to jessi/sj/ minyuk/jackson & many more artist interaxns... up to this day, he is making our fridays one of the best days!💙 pic.twitter.com/ROo8GfiqyS

— joe 💛 | 🐰 mc soobin (@joe_txtmoa) October 1, 2021
thank you so much mc soobin and arin ♡ thank you for making our fridays fun! for having each other's back! being the iconic besties! ily two so much! :"D akkong mcs 4ever! pic.twitter.com/BPDmi1oZkS

— act : jibangie ! (@huekaiexplosion) October 1, 2021
it will be our last time seeing this thumbnail 😭
mc soobin and arin, you will be missed. pic.twitter.com/wHwO3IhpN3

— ryuu⁷ 💜 (@welove_bighit) October 1, 2021
to our mc soobin, you did so well. i'm so proud of you. thank you so much for making our fridays better. you'll always be our favorite mc.pic.twitter.com/lEaU8EkVkP

— act : binnie ✙ | mc 숩 (@lovecsoob) October 1, 2021
Today is the last mc Soobin. I was hoping for another Soobin x SVT crumbs but I guess these pics was the last :'> He grew so much, he made everyone fall in love with him, which is understandable bec. how can you not love him🥺 I am just beyond proud. You worked so hard mc Soobin. pic.twitter.com/phibgO6yop

— Fai ♡ svtxt (@gyucheol_txt) October 1, 2021
watch moaville go happy with soobin red hair then go sad when mc soobin mubank later then go happy when txt concert. istg🥲. alexa play "eternally" by tomorrow x together.

— ΛCT : CINE (@txtkind) October 1, 2021
It has been an incredible time with SooBin and Arin. Here's a complete thread of their time as MCs, as compiled perfectly by a fan.
a full recap on music bank 'akong mc' soobin and arin's legendary mc term (thread) ✨#SOOBIN #TXT #수빈 #TOMORROW_X_TOGETHER#투모로우바이투게더 @TXT_members @TXT_bighit pic.twitter.com/9CMI6KUUzl

— soobin (@csbsource) October 1, 2021
Are you excited for SungHoon and Jang WonYoung? Share your thoughts with Kpopmap in the comments section down below!