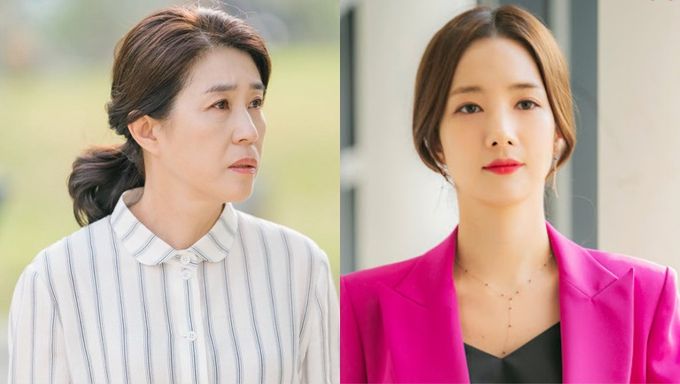 Actress Kim MiKyung is a veteran Korean actress known for her incredible talent and expressiveness. She's highly respected in the industry for their admirable personality and impressive filmography. For newer fans of the recent generations, she's known for her motherly roles on K-Dramas. Fans know that if a drama has Kim MiKyung in it, it is bound to be a super-hit.
In her career, Kim MiKyung has played many characters. However, the character of the mother sticks by viewers because of how realistically she portrays it. Here are some of the amazing actresses that have played her daughters in K-Dramas.
Park Shin Hye plays Cha EunSang in "The Heirs" and she is the daughter of Park HeeNam, played by Kim MiKyung. This on-screen mother-daughter duo was nothing short of iconic.
Actress Kim MiKyung plays Ji HaeSoo's mother in "It's Okay, That's Love". HaeSoo is played by the gorgeous Gong HyoJin and their relationship is very realistically portrayed throughout the drama.
Park MinYoung plays Sung DeokMi in "Her Private Life" and she gets her beauty and brains from her mother, Ko YoungSook, played by Kim MiKyung.
Kim MiKyung plays a mother that is always by her daughter's side in "It's Okay To Not Be Okay". Her character is Kang SoonDuk, mother to Nam JooRi biologically and figuratively to many others.
5. Kim HaNeul
Kim MiKyung beautifully portrays the mother of a mother, Yeo InJa in "18 Again". Her daughter, Jung DaJung is played by Kim HaNeul.
Actress Im SooHyang plays Oh YeJi, a woman with troubled relationships in "When I Was Most Beautiful". Her mother, Kim GoWoon is played by Kim MiKyung.
7. Kim TaeHee
Kim MiKyung plays the mother of one of the nation's most beautiful women, Kim TaeHee, in "Hi Bye Mama". Kim TaeHee plays Cha YuRi and Kim MiKyung plays Jeon EunSook.
Finally, the mother that made all fans weep, Go EunSook in "Go Back Couple" was played by Kim MiKyung. She played the mother of Jang NaRa's character Ma JinJoo.