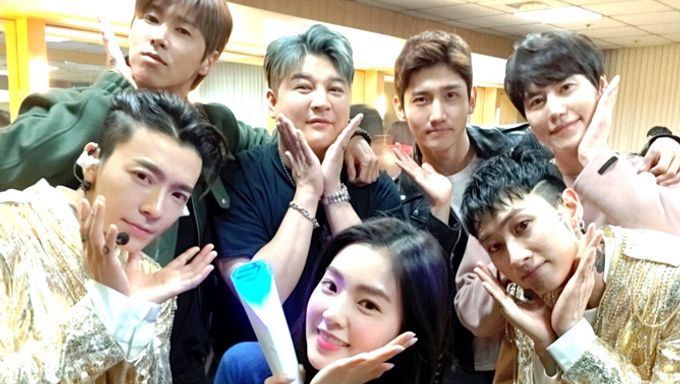 On Apr. 13 and 14, Super Junior D&E held their concert "THE D&E" in Olympic Park, Olympic Hall.
It was a successful concert as a large number of fans turned up for their concert, cheering and having fun all night long with their addictive tracks. Aside from the idols and fans having fun, it was noted that a handful of idols had also graced the concert.
They include Super Junior's SiWon, RyeoWook, Leeteuk, ShinDong and KyuHyun, NCT's JiSung, ChenLe and RenJun, TVXQ, EXO's SeHun and SuHo, Red Velvet's Irene and SEVENTEEN's HoShi.
Fans who were present in the concerts noted that they had actually shined the spotlight on the idols who were present to dance to their song, 'CHOK CHOK DANCE'.
They noticed how TVXQ, EXO's SuHo and Red Velvet's Irene were very enthusiastic when they were dancing to the song!
Some fans who were present also managed to take videos of the other idols dancing. Below, you can find SEVENTEEN's HoShi dancing adorably to the song.
https://twitter.com/jjongright/status/1117043499575025666?s=20
Aside from that, EXO's SeHun also appeared to be very shy when he was asked to dance.
EXO OH SEHUN CHOKIWA SOLO PERF HAHAHAHAH pic.twitter.com/f3CxohmzLJ

— 크리스탈 CRYSTALL🐮 (@adorekyu) April 13, 2019
Thanks to the 'participation' of these idols, fans became more hyped up than before during the concert.
Let us know below if you can also do the 'CHOK CHOK DANCE'!
Read More : Top 3 Female K-Pop Idols That Gay Women Absolutely Go Crazy For