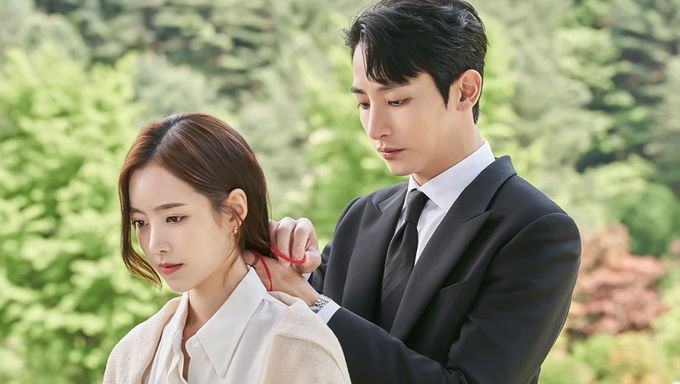 Have you been watching dramas these days? If not, you are missing many great scenes! If you like romance, this weekly Kpopmap series is for you as we gather the most heart-fluttering scenes in one place.
Be aware of major spoilers from episodes that aired this week. 
The following scenes are the most romantic scenes to not have missed this week.
1- "The King: Eternal Monarch"
Kim GoEun and Lee MinHo as Jung TaeEul and Lee Gon
Kim GoEun was kidnapped and was wandering in the streets hoping that Lee MinHo would come to save her. He majestically arrived on his horse followed by all his guards ready to kill the bad guys and rescue her.
Lee MinHo: Protect her she is the future queen of The Kingdom of Corea.
With his swords, he killed the enemy.
Kim GoEun was waiting for the one she loves with her weakened and hurt body.
Lee MinHo gave his bloody sword to his bodyguard and ran to her.
They hugged tightly, finally reuniting after a long time.
On a dramatic OST, she cried in his arms.
Kim GoEun: Let me skip the thanks.
Lee MinHo: You're skipping so much.
Kim GoEun: I missed you. I missed you. I missed you.
Lee MinHo: Let's go to the palace.
Kim GoEun fainted and he bridal carried her to the palace.
2- "Born Again"
Lee SooHyuk and Jin SeYeon as Kim SooHyuk and Jung SaBin
One more SPOILER ALERT for those of you who missed it above.
In their past life, Lee SooHyuk and Jin SeYeon could not get married as he was killed a few hours before the wedding. In modern times, they both were reincarnated and are also in love with each other.
They found Lee SooHyuk past life's rest and went to bury his ashes next to his fiancee' ashes as she wished. It is their "wedding day" as she finally gets to be with the one she loved and she finally received the wedding ring.
Modern Lee SooHyuk got possessed by his past life. He is, therefore, attending his wedding and the burial of his fiancee he loved so much.
On the tomb is written: "Please bury HyungBin (Lee SooHyuk) with me when his body is found".
Lee SooHyuk: I came here too late, didn't I? I'm so sorry it took me so long. I'm sorry, I'm late.
Lee SooHyuk: April 3, 1983 [date written on the ring] was the date when they first met. They will be together from now on and never be separated. He [his old self] must have wanted to keep his promise, that's why his body didn't rot as he was waiting for her to reach out to him.
He tied her hair as he did for her in her past life.