Lee JooYoung is acting as one of the key supporting characters of the hot drama "Itaewon Class". She is taking on the role of transgender Ma HyunYi who is working as a cook for Paek SaeRoy (Park SeoJoon).
In the latest episode (12), her character made an acclaimed ending and Lee JooYoung delivered it perfectly. This scene caused impressed viewers to search online about the character and the actress.
On Naver, "Ma HyunYi" was the number 2 most searched K-Drama characters on Mar. 7 and the number 1 on Mar. 8 based on Naver's most searched K-Dramas characters ranking.
On Naver again, "Ma HyunYi" and "Ma HyunYi gender" are currently one of the subjects gathering the most interest in relation to the drama.
Major spoiler ahead!
The scene that grabs the attention of all the viewers happened at the end of episode 12.
Ma HyunYi was competing in a cooking competition with chefs of other pubs and restaurants. She had been winning for two weeks in a row already with her tasty food. On the day of the third competition, her private information about her being a transgender was spread online.
When she arrived on the set everyone was talking about her and she was informed out about her leaked information online.
Shocked, she left the set and was searching for a place to be alone and far from people's mean comments. However, she couldn't even enter the restroom because "this is a ladies' room".
Ma HyunYi was having a hard time with all the pains she received from the weird looks and hateful comments. However, she found strength and went back to the set with the most powerful entry ever. On the back, YiSeo (Kim DaMi) was reading a beautiful poem by the Gwang Jin to her on the phone. Check it below.
Ma HyunYi bravely went to her spot and took the mic "I am a transgender and today, I'm going to win" as the last lines of the poem went "I survive. I'm diamond".
She is a true diamond! Viewers were impressed by Ma HyunYi and Lee JooYoung.
Many are looking forward to seeing how the drama will continue to tackle social issues such as transphobia, racism, psychological issues, and much more.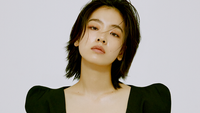 Became a fan of Lee JooYoung
You can now view more their stories