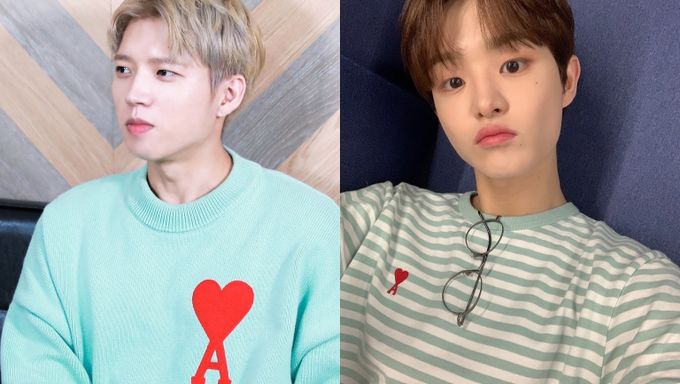 K-Pop fashion is all about trends. You might notice some of your favorite idols rocking similar styling or the same fashion item whilst doing their promotional activities. You might even be curious about which brand it is and where you can get it.
We've noticed that some male K-Pop idols have been rocking a specific heart and A-shaped logo on their clothing lately. Here's everything you need to know about this design and the idols who have worn it so far.
This heart and A-shaped logo belongs to non-other than the fashion brand AMI Paris as a part of their Ami de Cœur collection. The collection name translates to 'AMI of Hearts' and the logo represents the signature that the designer has used since his childhood. AMI Paris was founded by Alexandre Mattiussi in 2011. His clothes are designed to blur the boundary between casual and chic.
You can shop for clothes with a similar design here. 
But which K-Pop idols have rocked the look? Here are 8 male K-Pop idols who have rocked this brand's clothing items in 2021.
INFINITE's WooHyun wore an AMI jersey for a video where he shared details about his MBTI personality type. You can watch the video here. 
KHAEL has posted selfies in a couple of the AMI shirts.
Son DongPyo also posted a selfie with member Park SiYoung where he is wearing an AMI button-up shirt. 
Son DongPyo even rocked it for a special video that MIRAE made for Kpopmap.
ONEUS's KeonHee wore an AMI T-shirt in this selfie set.
ONEUS's RAVN also wore this navy blue AMI shirt in a selfie.
TREASURE's JiHoon has posted a pouty selfie in an AMI button-up shirt, too.
Yoshi and Asahi even wore the shirts during their performance of 'MY TREASURE' on "Inkigayo".
What do you think of this design?
Have you spotted any other K-Pop idols wearing this brand or their designs? Let us know in the comments.