Future Directions, Mixtape – Highlights To Know From BTS Press Conference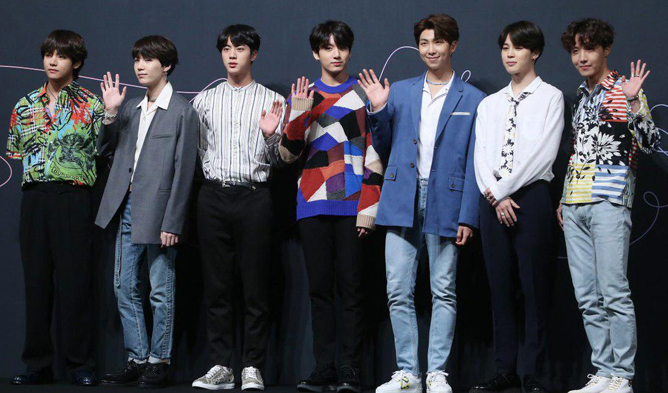 On May 24th, BTS held a press conference at Lotte Seoul Hotel in the morning answering to questions about their latest album as well as their win at Billboard Music Awards (BBMAs) 2018.
This time the focus on the 7 of them is larger than before as they had their comeback stage for title track 'Fake Love' on BBMAs.
During the press conference, JungKook mentioned that thanks to the loud cheering and support from fans who were present at BBMAs, they felt as if they were back in South Korea doing their usual comeback stage. They were nervous at first because of how burdensome yet exciting at the same time to be able to perform their new song on the stage of BBMAs.
Leader RM revealed that ever since they received the 'Top Social Artist Award', he has been thinking about how to accept it. He has been reading letters from many different people and was grateful that they were able to touch or change someone's life in one way or another.
On the other hand, another question was directed to JungKook since he mentioned in an interview in the U.S. that the next person who will be releasing mixtape from BTS would be him. To answer the curiosity of many, he said that he has been preparing a lot but unable to estimate as of when it would be possible to release it.
Moving on to the songs in the album, Suga talked about the song 'Nakwon' which also means paradise in Korean. The song is delivering the message that it is alright to not have a dream. He mentioned about how there was a time when he did not have a dream and it gave him inspiration for this particular song.
He said that this song is dedicated to those out there living in the competitive society, telling them it is alright to slow down and take a break before moving on and continuing with their life.
The next highlight of the press conference was about JiMin as it was known by many fans that he had once again received death threat online. In regards to that incident, JiMin surprised reporters present on the spot by saying that he was in fact more worried about the fans rather than himself. He explained how he was indeed flustered when he first found out about it but eventually assured fans as there are many staff who are helping them continuously.
With the question on their future directions in the music career, RM revealed that their company Big Hit Entertainment has been contacting and working with various rising and famous international producers overseas so as to lessen their workload and burden in the future. Suga also talked about hoping to reach to the top for 'Billboard 200' and eventually make their way to Grammy Awards. He also wishes to become the top artist in the world.
BTS concluded the press conference by answering other questions and also thanking the reporters who took time off for them.
To find out more questions asked to them during the press conference, you can also check out the English-subbed video below.
They will be appearing on Mnet "BTS Comeback Show" on May 24th 8:30PM. You can watch it live through M2 channel on Youtube below.
Read More : The Reason Why BTS Changed Their Lyrics During Billboard Performance