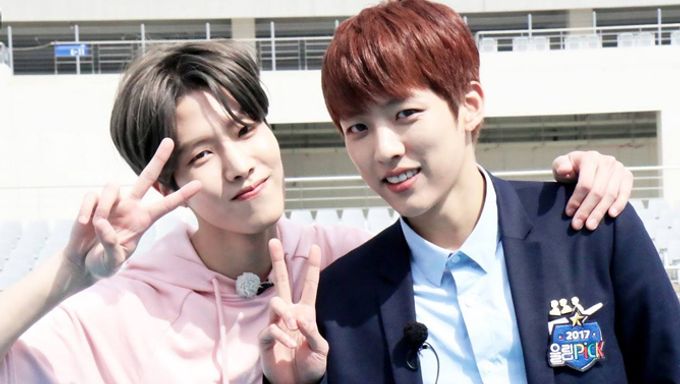 Sometimes when one K-Pop idol debuts under a particular company, he or her sibling would most probably follow suit and join the company. However for some K-Pop idols, they rather go to a different company from their siblings just so that they won't be compared as much.
Up till now, it has been noticed by K-Pop fans that there are actually 7 idols who have debuted under the same company as their sibling! Let's find out who they are.
#1 SM Entertainment- Jessica and f(x)'s Krystal
The Jung sisters are well-known for their close relationship with each other. It was also reported that when Krystal first debuted under f(x), Jessica even went to the music broadcasting station to give her moral support.
#2 Woollim Entertainment- INFINITE's SungYeol and Golden Child's DaeYeol
DaeYeol actually made a small appearance on INFINITE's "Sesame Player" when SungYeol returned back to his house. Since then, many fans were curious about his brother and also noticed that he was a background dancer for INFINITE for a short time.
#3 Starship Entertainment- Boyfriend's YoungMin and GwangMin
Fans noticed straight away that there is a pair of twins among the members when Boyfriend first debuted back in 2011! Both of them looked really alike and sometimes even the fans had a hard time telling them apart.
#4 WM Entertainment- BaRo and I
It was known among fans that BaRo has a sister and it took them by surprised slightly that she was going to debut as a solo artist under the same company! They also recently head to Europe for a short holiday together.
#5 Media Line- TheEastLight's SeokChul and SeungHyun 
SeokChul and SeungHyun are only a year apart and fans love the brotherhood between these 2 boys! Not only are they good in playing instruments, they also have interesting personalities.
#6 RBW Entertainment- ONEWE's DongMyeong and ONEUS's XiOn
You may recognized DongMyeong from Mnet "Produce 101" season 2 but did you also know that he has a twin brother? It was reported that they will be active in each other's respective groups in the second half of 2018.
#7 Chrome Entertainment- Crayon Pop's ChoA and Way
From their famous 'Bar Bar Bar', Crayon Pop has always amazed their fans with their simple yet unique concept. Among the 5-member group, there is also a pair of twin sisters!
Read More : Gong SeungYeon Supports Her Sister TWICE's JungYeon And Fans Love It