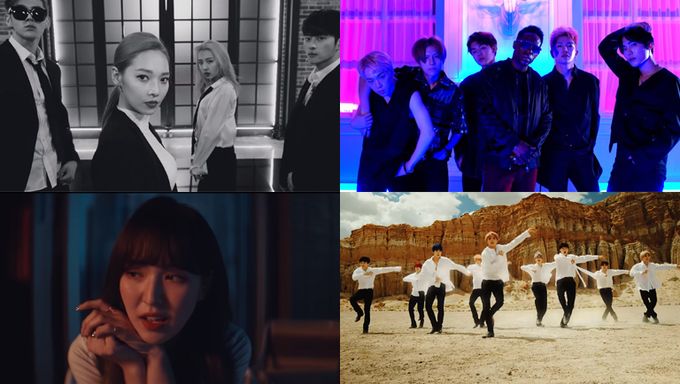 There are many reasons to love K-Pop and these days many K-Pop idols are also expanding their audience by releasing music in English. It can be a challenge for some especially since not all of them are native speakers.
Despite that being said, they put in even more effort in perfecting their pronunciation and work harder too.
Kpopmap had made a selection of 10 English songs by K-Pop idols. Some are already well known by many K-Pop fans while some also deserve some spotlight on them.
Check them out below!
Note: This is not a ranking.
#1 BTS- 'Dynamite'
The freshly released single by BTS is taking over the music charts by storm! They had definitely switched up their concept and many are loving how light and fun the song is.
#2 NCT's Ten - 'Dream In A Dream'
Ten is a very talented idol and he has proved it over and over again. Through his song 'Dream In A Dream', he showed off his amazing dance skills and also his charismatic vocals.
#3 A.C.E- 'I Feel So Lucky'
Not many actually know but the 5 boys of A.C.E had partnered up with French producer Hcue and released 'I Feel So Lucky'. The song had allowed fans to be able to see another and new side of them.
#4 MONSTA X- 'YOU CAN'T HOLD MY HEART'
It is not new for MONBEBE as MONSTA X has been releasing several English tracks by now. One of the most recent English songs is none other than this and the lyrics is filled with love and emotions.
#5 NCT 127- 'Highway To Heaven'
The boys of NCT 127 look amazing in white shirts and seeing how all of them are so bright and energetic gave their fans a sense of joy too. This song is one of their many English releases and it is recommended especially when you are out on a drive!
#6 KARD- 'Don't Recall'
KARD is unique in many ways and the most obvious reasons is probably because of how both opposite sex members are in the group. They have all along released catchy and head bobbing music and their English version of 'Don't Recall' is also amazing.
#7 Tiffany Young- 'Lips On Lips'
Ever since Tiffany had become a solo artist, she had released several tracks that are catchy and lovely. One of them is none other than 'Lips On Lips' which allow her fans to find the lyrics sweet and heart-fluttering.
#8 Katie- 'ECHO'
Katie is one of the many underrated solo singers out there and some might know her through her appearance back in "K-Pop Star" Season 4. She had debuted as a solo artist and her recent release with 'ECHO' is definitely a must for your playlist.
#9 The Rose- 'California'
The Rose had signaled their return recently and their English song 'California' is one of the favourites among their fans. They know how to hype up a crowd and definitely enjoy performing on stage.
#10 Red Velvet's Wendy X John Legend - 'Written In The Stars'
Wendy's voice is a pleasant to listen to and a collaboration with John Legend had definitely caused many of her fans to be mind blown. Although the collaboration was released some time ago, many love how amazing and soothing both of their voices suited each other.
What are some of your favourite English songs sang by K-Pop idols?