A.C.E WORLD TOUR [TO BE AN ACE]: Cities And Ticket Details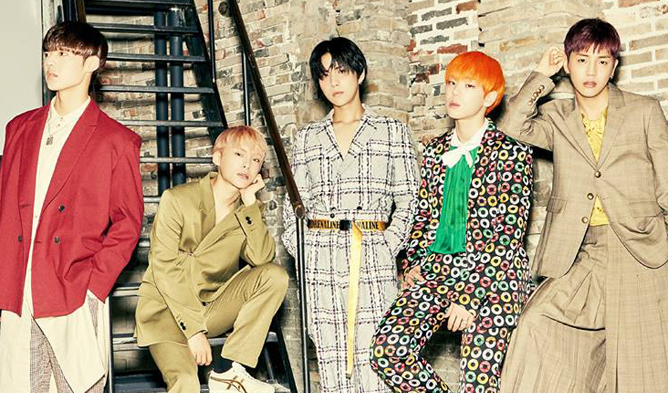 A.C.E WORLD TOUR [TO BE AN ACE] will kick off in Buenos Aires, Argentina on November 16 and stop in Santiago, Chile and Mexico City, Mexico before kicking off the U.S. leg of the tour. They will also be starting the 2019 new year by heading to various European countries.
The quintet debuted in 2017 with their single 'Cactus' and gained attention thanks to their covers on YouTube. With their upbeat tunes and colorful imagery, the group has been able to galvanize a dedicated international fan base with only four songs under their belt.
A.C.E consists of five members, DongHun, Jun, Wow, ByeongKwan and Chan.
A.C.E World Tour "TO BE AN ACE"
–Latin America–
November 16th, Friday- Buenos Aires (El Teatro Flores)
November 18th, Sunday- Santiago (Teatro Coliseo)
November 21st, Wednesday- Mexico City (Auditorio BlackBerry)
-USA-
November 24th, Saturday- Los Angeles (The Fonda Theatre)
November 28th, Wednesday- Seattle (Showbox SoDo)
November 30th, Friday- San Francisco (August Hall)
December 2nd, Sunday- Chicago (The Vic Theatre)
December 5th, Wednesday- Dallas (Granada Theater)
December 7th, Friday- Atlanta (Center Stage Theater)
December 9th, Sunday- New York (Gramercy Theatre)
December 11th, Tuesday- Miami (James L. Knight Center)
-Europe 2019-
February 20th, Wednesday- Madrid (Teatro Barcelo)
February 22nd, Friday- Paris (Le Bataclan)
February 24th, Sunday- Berlin (Kesselhaus)
February 26th, Tuesday- Stockholm (Fryshuset Klubben)
February 28th, Thursday- Amsterdam (Melkweg OZ)
March 1st, Friday- Brussels (La Madeleine)
March 3rd, Sunday- Moscow (Izvestia Hall)
March 5th, Tuesday- Budapest (Akvarium Klub)
March 8th, Friday- Dublin (The Academy Dublin)
March 10th, Sunday- London (O2 Academy Islington)
Ticket Sales
(Presale opens on September 19th 4 pm local time. General sale opens on September 21st 4 pm local time)
Buenos Aires / Santiago / Mexico City
Los Angeles / Seattle / San Francisco / Chicago / Dallas / Atlanta / New York / Miami
Europe sales (Presale opens on January 15th 2019 11 am local time. General sale opens on January 17th 2019 11 am local time)
Madrid / Paris 1 / Paris 2 / Berlin / Stockholm / Amsterdam / Brussels / Moscow / Budapest / Dublin / London
Read More : 2018 TEEN TOP Night In USA: Cities And Ticket Details