"Beyond Evil" is a thriller psychological drama of the cable channel JTBC.
Shin HaKyun ("Less Than Evil", "Soul Mechanic") and Yeo JinGoo ("The Crowned Clown", "Hotel Del Luna") are the lead actors.
The screenwriter Kim SooJin previously worked on "Mad Dog".
Here is more information.
Beyond Evil (2021)
Information
Title: Beyond Evil / Monster / Goemul / 괴물
Director: Shim NaYeon
Writer: Kim SooJin
Network: JTBC
Runtime: From Feb. 19
# of Episodes: 16
Genre: Thriller, Psychological
Language: Korean
Summary
"Who is the monster? You? Me? Us?" It is the psychological thriller of two men who are like monsters at ManYang Police Substation.
Cast
Shin HaKyun as Lee DongSik
Lee DongSik is a sergeant at the ManYang Police Substation. He used to be a fearless detective in charge of violent crime. However, he is now in charge of any type of cases in the suburb.
Yeo JinGoo as Han JooWon
Han JooWon is a lieutenant at the ManYang Police Substation. He is an elite detective who has come to this suburb police station with a secret. He is smart and strong. His father is powerful as he is the next chief of the National Police Agency.
Interesting Facts
Here is the teaser.
Here are the official posters.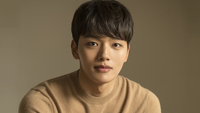 Became a fan of Yeo JinGoo
You can now view more their stories