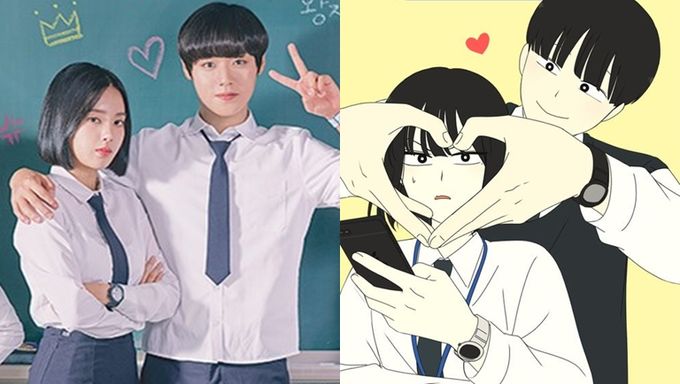 The popular teen webtoon "Love Revolution" is adapted into a web drama of short form. It is one more drama to be adapted from webtoon this year (check the dramas based on webtoon confirmed and announced for 2020).
Park JiHoon is the lead actor. The acting-dol debuted as a child actor and have acted in some dramas until 2011. After the beginning of his solo activities following the disbandment of Wanna One, he acted as one of the lead roles in "Flower Crew: Joseon Marriage Agency". He impressed with his good acting. MAY is excited at the news of his casting. Fans of the webtoon also noticed several common points between the actor and character.
Lee RuBy is the lead actress. She is a rookie actress of King Kong by Starship born in 2000. She debuted in "Memorist" (2020). "Love Revolution" will be her first lead role.
THE BOYZ's YoungHoon is the second lead actor. YoungHoon and WJSN's DaYoung will make their acting debut. The rest of the cast are rookie actors.
The filming started back in June and the web drama was released in September on the new Kakao platform. Check here for the first episode.
Here is more information.
Love Revolution (2020)
Information
Title: Love Revolution/Yeonaehyeokmyeong/연애혁명
Director: Seo JuWan
Writer: Kwak KyungYoon by Lee YongKa
Network: Kakao TV
Runtime: From September 1
# of Episodes: 30 episodes of 20 min
Language: Korean
Summary
"Love Revolution" tells the love story of the couple Gong JuYoung and Wang JaRim while depicting realistically the teen's lives with their love, friendship, study, and dream.
Cast
Park JiHoon as Gong JuYoung
He is a 17-year-old high school student with aegyo, loyalty, good personality, dance and singing skills, and handsome looks. He is the cutest boy in the world.
He fell in love with Wang JaRim at first sight. He is a straight-forward lover who expresses his endless love. It is hard to find someone with such a pure heart. His days start with Wang JaRim and end with her.
He is also dependable and mature when things get tough for his friends.
THE BOYZ's YoungHoon as Lee KyungWoo
He has been JuYoung's best friend for 10 years. He is a popular student with chic vibes but he jokes around and is friendly. He is a 17-year-old high school student who at the difference of his cold and sharp appearance, has a hot temperament. He knows how to fight and likes games.
Lee RuBy as Wang JaRim
She is the high school student loved by JuYoung.
Jung DaEun as Yang Minji
She is a long-term friend of JaRim. She is an ordinary girl who is neither bad neither good.
WJSN's DaYoung as Oh AhRam
She is JaRim's best friend who is athletic and easy-going. She is popular.
Ko ChanBin as Kim ByungHoon
He is the middle school friend of JuYoung and KyungWoo. He is a mood maker with a bright and cheerful personality.
Ahn DoGyu as Ahn KyungMin
He is the middle school friend of JuYoung, KyungWoo, and ByungHoon. He is a bit slow-witted but he likes to joke.
Kim SeungHee as Hong JinHee
She is JaRim's classmate.
Teaser & Posters
Here is one of the teasers.
Here are the official posters.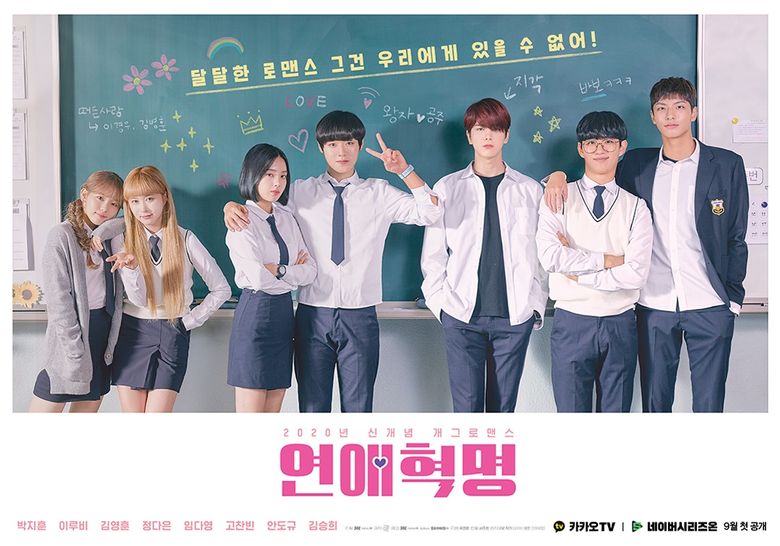 Kakao TV
About the Webtoon
"Love Revolution" is a popular webtoon in Korea that started in 2013 written by Lee YongKa.
You can read the webtoon in Korean here. It is not officially available in English.
According to the webtoon:
Gong JuYoung is a 17-year-old boy. He has a lot of aegyos, likes to express his love, and likes to do surprise events.
Wang JaRim is a pretty high school girl who is looking cold. She is tsundere who hates surprise events.
Lee KyungWoo fights a lot with Gong JuYoung and he is a bit of a gangster (he smokes, rides motorbikes, etc). He also likes to joke around.
Here is a glimpse at the webtoon.