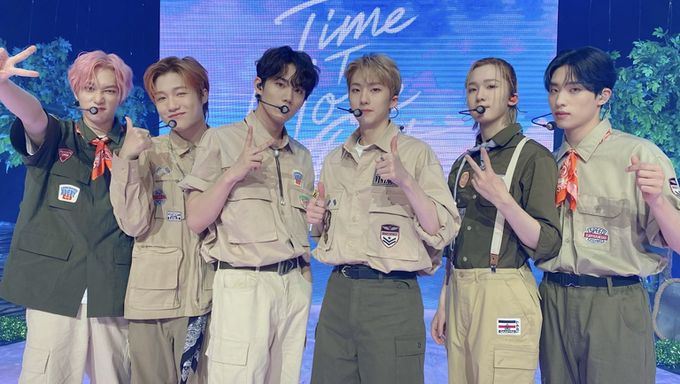 STORY BY
Courtney Cobb
Kpopmap Contributor
Sun, sand, sea, and palm trees! On Sunday, fans spent part of their day (happily) sequestered on a deserted island with FNC entertainment's rookie group, P1Harmony. KeeHo, Theo, JiUng, InTak, Soul, and JongSeob put on an incredible two-hour show that featured performances, missions, skits, and even a little pompom dancing.
The setting of their second online fan meeting, "P1uspace H: Time To Move Out", was on a deserted island called P1uspace. P1Harmony were given four missions to complete before they could be rescued from the island. These entertaining missions engaged the viewers, allowed us to get to know the guys better, and showed the depth of their love for their fans, P1ece.
Mission 1: Time to Make P1; When P1 Makes P1
To kick off their fan meeting, P1Harmony began their first mission called "Time to Make P1; When P1 Makes P1". During this mission, the group members chose from various containers of colored sand labeled with different traits. Some of the traits were "charismatic", "innocent", "comedy obsession", and "romantic". Each member would mix in the amount of each trait they felt represented each person. This mission was hilarious because you could hear what they all think of one another, and you got more insight into all of their personalities. There's really great chemistry between the guys. It's very obvious that they have fun together.
Mission 2: Time to Nemonade
After completing their first mission, the seagull brought in a card explaining their second mission: refresh P1ece by singing Nemonade. Once they performed, they would be able to enjoy some drinks sent to them by P1ece. They quickly transitioned into a wonderfully choreographed and high energy performance of their hit song 'Nemonade'. After their performance was done, they were brought out some delicious-looking coconut drinks. With the show they put on, those drinks were well deserved!
Then they pulled up some tree stumps, a guitar, a bongo, and pompoms which served as seaweed. They sat around singing songs and clapping while Theo played the guitar, JiUng jammed it out on the bongo and JongSeob got up and started freestyle dancing.
After the cheer, JiUng got up to sing a cover of Avril Lavigne's 'Girlfriend'. As JiUng sang, the group sat behind him waving their pompoms and that was a funny sight to see. But even funnier than that was seeing KeeHo doing a cheerleading number dedicated to P1ece, complete with his attempt at doing a jumping split kick.
Mission 3: Time to 1 P1ece (Puzzle)
The seagull returned with a new mission: find the six puzzle pieces scattered throughout the island. Those six pieces, which were so creatively drawn by their fans, would come together to make one complete picture. Each piece included different group members and/or parts of their bodies. As the group found the puzzle pieces, the gushed over how great the drawings were and compared each member to their drawings. When they put the pieces together it featured the entire group together, on the deserted island. They were very touched by the drawings even saying, "The fact that P1ece drew this melts my heart." Awwwww.
Last mission (Mission 4): Send your voice to P1ece 
The seagull returned again to deliver the last mission: send your voice to P1ece. For this mission, each group member had to sing one note higher than the previous member. Whoever lost had to inhale helium from a balloon and act cute. KeeHo started it off, followed by Soul, JiUng, InTak, JongSeob, and then Theo. They cycled back through the order until they got back to JongSeob, who could not sing higher than InTak that go around. He inhaled helium from the balloon with very little change to his voice. Theo had his turn with the balloon and when he inhaled the helium, his voice went up a couple of octaves (I'm really guesstimating here). JongSeob tried inhaling helium again and his voice got noticeably higher too.
They passed all of their missions with flying colors! Next, the viewers were treated to great performances from all of the guys. First, there was a unit performance by KeeHo and Theo. They did a great rendition of Ariana Grande's 'Needy'. Shortly thereafter, there was a unit performance by JongSeob, Soul, and InTak of Dreamville ft. J.I.D, Bas, J. Cole, EarthGang, and Young Nudy's 'Down Bad'.
With the completion of their missions, it was almost time to be rescued from the deserted island. They ended their time on P1uspace sitting around a fire underneath a starry sky. As they sat around the fire, they came together to sing what is now my new favorite song, 'If You Call Me', which is from their most recent EP, "Disharmony: Break Out".
During the P1ece Starry Night skit, all of the members sat around the fire and wrote about their experiences on the deserted island. After they read the record of their experiences on the island, they "fell asleep". When they woke up, they were back on stage where they performed 'Pyramid', 'Reset' which are also on "Disharmony: Break Out" EP.
To conclude their fan meeting and celebrate them being rescued off of the deserted island, P1Harmony performed two more songs off of their new EP: 'Maniac' and '겁나기 (Scared)'.
"P1uspace H: Time To Move Out" was nearly two hours of entertainment and a great showcase of who P1Harmony is. I left their fan meeting as a new fan!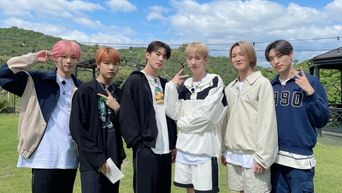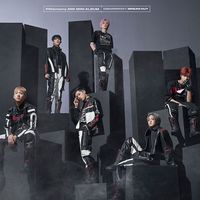 Became a fan of P1Harmony
You can now view more their stories