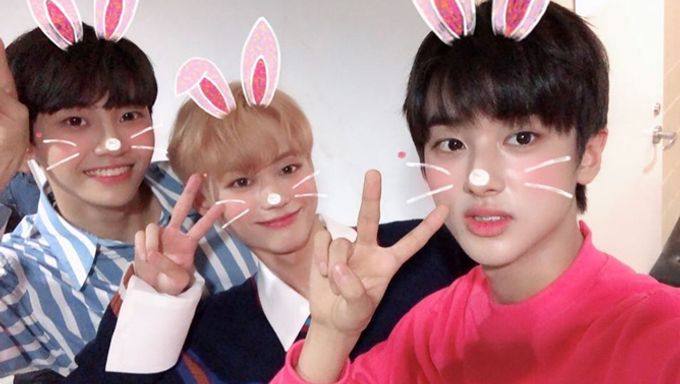 iMe Korea's Lee SeJin had successfully held his fanmeeting "The SeJin" on Aug. 18. For more updates about upcoming fanmeetings by participants of Mnet "Produce X 101", you can check it out here.
During that time, he had a great time interacting with his fans as well as updating on his future plans. Needless to say, his close friends that he had made during "Produce X 101" also appeared as guests!
For the fanmeeting that took place at 3 pm KST, it was revealed that HONGYI's Yu JingTian, MYTEEN's YuVin and VICTON's ByungChan had made a special appearance.
They played games such as the staring contest and fans were squealing after seeing how they were trying to sabotage each other in losing the game.
YuVin later uploaded a selfie with a raincoat filter that is currently trending among many K-Pop idols on his Instagram!
https://www.instagram.com/p/B1TeLZZD7IF/
As for the later fanmeeting that took place at 7 pm KST, UP10TION's Lee JinHyuk and Jellyfish's Kim MinKyu appeared as his special guests!
They also had a lemon eating contest which caused their facial expression to change as it was rather sour.
Both Lee JinHyuk and Kim MinKyu later uploaded selfies with Lee SeJin on their Instagram.
https://www.instagram.com/p/B1TyxRYHPgq/?hl=ko
Fans who had attended the fanmeetings shared that it was nice to see how much support Lee SeJin was getting. In addition, they also mentioned that they had a great time thanks to the special guests and hope to see their friendship last for a long time.
Some also guess that for Kim MinKyu's upcoming fanmeeting, there will be a high chance that Lee SeJin and Lee JinHyuk will appear as special guests.
Do you also wish that you were there at the fanmeetings?
Read More : UPDATE: 5 Fanmeetings To Take Place After The End Of "Produce X 101"