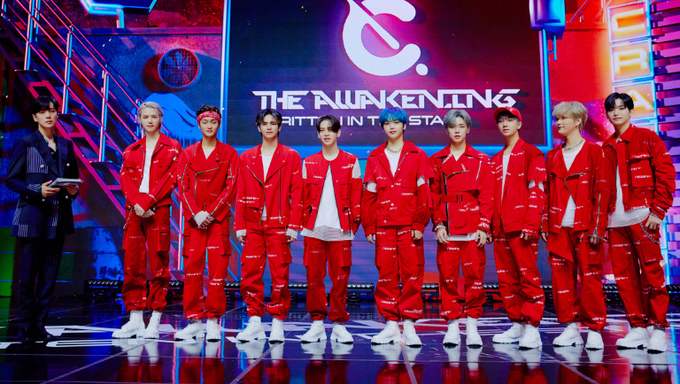 CRAVITY is back with their first full-length album "THE AWAKENING: WRITTEN IN THE STARS" and LUVITY (their fandom) is loving it! Members SeRim, Allen, JungMo, WooBin, WonJin, MinHee, HyeongJun, TaeYoung, and SeongMin have upped their game in their latest project.
The album was released on Aug. 19, 2021. It has been a much-awaited comeback because it is their first comeback since concluding their "Hideout" three-part mini-album series.
With their exciting and speedy title track 'Gas Pedal' and the members' desire to outdo themselves, it is sure to be a hit!
Starship released the teaser for 'Gas Pedal' on Aug. 16, and it looked like a scene out of a sci-fi movie. It has a cyberpunk theme and the boys did a lot of acting in front of green screens to achieve the CGI effects.
"THE AWAKENING: WRITTEN IN THE STARS" consists of 8 tracks.
The first track is 'Intro: New Horizon.' The second track is the title track 'Gas Pedal,' and members SeRim and Allen took part in the rap making for it. The third track is 'Veni Vidi Vici,' the fourth is 'Chinga-Linga,' and the fifth track is 'Celebrate,' which puts you in a party mood.
The sixth track is 'Grand Prix,' which SeRim and Allen also helped create and is a groovy and soft song that is supposed to put you in a good mood. The seventh track is 'Divin',' which feels like going on summer vacation, and the final track is 'Go Go,' which is supposed to be a fun song for fans.
You can listen to snippets of each track in their highlight medley below.
CRAVITY held an online media showcase on the day of the album release. Here is everything you need to know about it.
The showcase was hosted by MONSTA X's MinHyuk who is also their senior labelmate. He showed their fond senior-junior relationship and highlighted their personalities with his professional MC skills.
CRAVITY wore red jumpsuits in different hip cuts, styled with bandanas and eye-catching hairstyles. They started the showcase by performing one of their B-side tracks 'Veni Vidi Vici,' which is Latin for 'I came, I saw, I conquered,' in English.
The performance started with strong bass and a hip-hop beat then transitioned into a powerful rock melody. As per usual, their choreography was strong and well-synchronized.
The members then spoke about their album and how each member practiced really hard and even individually for this comeback. WonJin said that because having a full-length album was a bucket list item for them, they put extra effort into preparing it.
When asked the meaning of the album, SeongMin said that it is an album meant to awaken not just the members, but also the fans. It is about waking up as a new version of yourself to take on a new goal.
It is an album with a lot of diverse music styles and atmospheres, so each member was able to express themselves according to their personal taste.
After much suspense, they finally performed their title track 'Gas Pedal.' SeRim and Allen took part in the rap making for the title track. Allen said that the song focuses on accelerating and increasing speed. He said it represents the way that CRAVITY will grow.
The title track starts with strong bass and transitions into a smoother R&B. It goes between the two sounds and shows a sexy side to CRAVITY. The key dance move is a series of pumping arm movements that moves into a swerve (wave movement). It is supposed to mean that they are changing gears.
The performance was full of many details that the members hope LUVITY will notice.
You can watch the live performance and the music video below.
When asked if they had a message they wanted to relay with their comeback, they said they hoped fans would notice how hard they worked to prepare it. They want to be recognized for their performances and be able to show their unique colors each time.
What is your favorite song in "THE AWAKENING: WRITTEN IN THE STARS"?
※You can vote multiple times without sign in.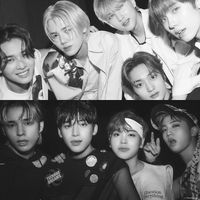 Became a fan of CRAVITY
You can now view more their stories