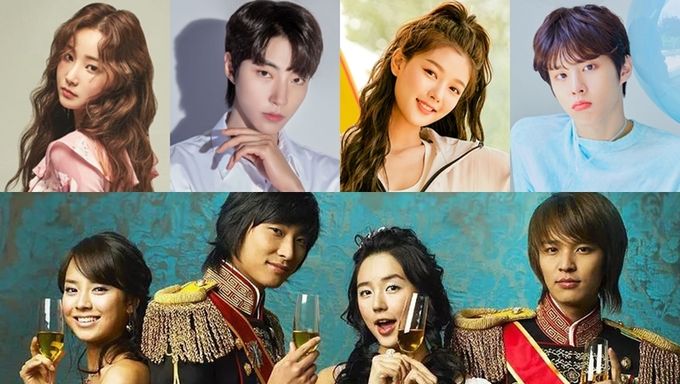 The announcement of the remake of the hit drama "Princess Hours" (also known as "Goong") was huge news for K-Drama fans.
"Princess Hours" (based on the manga of the same title) starring Yoon EunHye, Ju JiHoon, Kim JeongHoon, and Song JiHyo was extremely popular in and outside of Korea in 2006. Until now, many fans still remember and cherish the drama.
On Kpopmap, on Mar. 5, we've shared who would be perfect to take the four lead roles for this remake - keeping in mind that the actors should suit the role of high school students. Along with our suggestions, we've opened a vote to hear fans' opinions. Many of you participated. Thank you for all your votes! 
Here is the desired cast for the remake of "Princess Hours" by Kpopmap readers (data retrieved on Mar. 12, 2 PM KST). Find out the vote result!
1. Kim YooJung for Shin ChaeKyeong (Yoon EunHye)
Looking at the results of the vote, Kim YooJung is the most wanted actress for the role of the kind Shin ChaeKyeong with 52.8% of the votes (156,506 votes).
She is followed by Kim HyeYoon with 38.0% (112,823 votes), Roh JeongEui with 4.8% (14,127 votes), and Jo SooMin with 4.4% (13,116).
In the first part of the vote, Kim HyeYoon received the most votes but Kim YooJung later took the lead. In the comments, fans mentioned Moon GaYoung and Kim SoHyun (not included in the votes) for this role.
2. Hwang InYeop for Crown Prince Lee Shin (Ju JiHoon)
Hwang InYeop received the biggest amount of votes to act as Crown Prince Lee Shin with 58.9% of the votes (124,569 votes). He is the one fans wants to see the most as the lonely prince.
Lee DoHyun was the 2nd one to be chosen with 30.2% (63,892 votes), then Kim YoungDae (5.6%) and Lee JaeWook (5.3%).
3. Kim WooSeok for Prince Lee Yul (Kim JeongHoon)
Kim WooSeok would perfectly fit the role of the cute and kind Prince Lee Yul and he received the major amount of votes with 59.0% of the votes (95,169).
SF9's RoWoon received 22.6% of the votes (36,475), Golden Child's BoMin 14.7% (23,741) and Bae HyunSung 3.6% (5,796).
4. YeonWoo for Min HyoRin (Song JiHyo)
For the talented ballerina Min HyoRin, Kpopmap readers selected YeonWoo with 38.9% of the votes (40,657).
Park YooNa gathered 31.1% of the votes, Kang MinAh 21.2%, and Kim BoRa 8.9%.
For more about the drama and its characters, and to continue to share your opinions, you can check our previous article below.