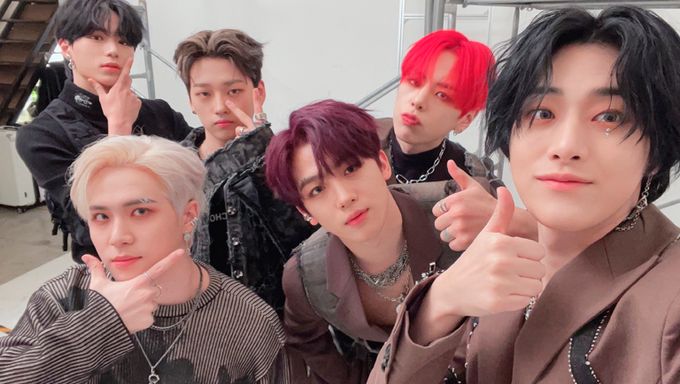 It is almost like with the dawn of a new day, a new K-Pop group is making their debut. These days K-Pop groups are widely known to be filled with unbelievable jaw-dropping talents, charisma, and unique identities that keep fans entertained and glued to every content they release.
This generation of K-Pop idols are multifaceted, they are fierce and eccentric performers, charming, creative, versatile, and energetic. In the last 2 years, a crop of new idol groups has emerged, stealing the hearts of fans with their tremendous talents and adorable personalities In this article we will be sharing some of the new K-Pop idol groups that have what it takes to make it big in the industry.
The boy group consisting of 7 members: Tan, Hwi, Keita, Won, TAG, DoHwan, and Moon HyunBin, debuted under R.A.I.N company (a company under the management of Rain) on March 15, 2021.
For a relatively new group, their musicality level is high and already something special. We are not blindly in love with this group as we can see their incredible musical talents, skillful dance moves, and startling visuals that make viewers say "I think I am in love with you". Their growth and improvement are quite remarkable as they seem to be amassing more fans daily, their latest song 'Blind' already has over 7 million views in just 1 week. Clear proof that K-Pop lovers are gravitating towards this amazing new act. We hope they keep growing bigger.
WEi is undoubtedly one of the next hit K-Pop groups and one to watch. The boy group debuted in 2020 with 6 members: Kim YoHan, Kim DongHan, Jang DaeHyeon, Kim JunSeo, Kang SeokHwa, and Yoo YongHa.
Their sound is trendy with a catchy rhythm added with their striking visuals, delighting personality and sleek dance moves, this K-Pop group has the perfect recipe for a delicious serving that K-Pop lovers are ready to devour. 
With over 150,000 monthly listeners and 5 million streams on Spotify,  as well as over 40 million views on YouTube,  it is safe to say whatever WEi is doing, fans are passionately and excitedly here for it.
They might just have 5 songs out but that is enough for them to be on this list.
The new boy group of 4 members: Steven, Woobin, Suil, and YoungBin made their debut this year with WIP Company.
They are a new talent K-Pop lovers have to keep their eyes on. With 'Run' they gave listeners the classic catchy pop track we love with a unique twist, a perfect flow synergy with the rap, and a harmonious vocal sound that keeps you interested and hitting the repeat button. We know we will get more powerful tracks with the potential of becoming a K-Pop anthem from them and we cannot wait to see what they do next.
The boy group with 5 members: Bic, Castle J, Win, MinJae, and HuiJin made their official debut on February 27, 2020, having signed with TOP Media and since then they've been nothing but exciting and entertaining to watch.
First, we were dancing in the snow when were taking back to the 'Ice Age', then we were bouncing like woodangtang with 'Crush' and now we are gladly 'Movin' along to wherever MCND is taking us.
With a very unique sound, the K-Pop group with every song keeps growing and expanding their creativity. A dynamic and versatile group with incredible dancers, a modern rap line, and a powerful vocal line, this K-Pop group is ready to take over.
They're addictive, charismatic, funny, charming, and talented.
Having made their official debut back in 2020, the 9 member boy group consisting of Lee HanGyul, J-Min, JunSeo, Nam DoHyon, YooJun, Muzin, Doha, Bit, and YoungSeo are signed with MBK Entertainment. This K-Pop group has all it takes to become one of the best in the industry with their cute and dazzling personalities, stunning visuals, sonorous vocals, a spirited rap line, and colorful dance moves.
With over a million streams on Spotify and over 12 million views on YouTube, their popularity keeps increasing as viewers are turning to fans due to the talents and charms they possess. 
Which of these idol groups are you excited about?
※You can vote multiple times without sign in.