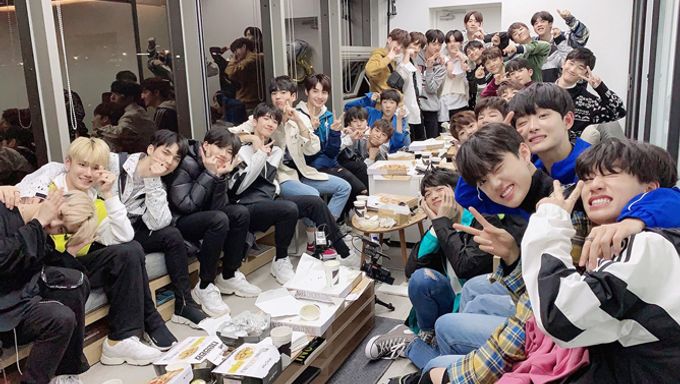 A brand new year means brand new groups are going to debut! Some of the teasing which K-Pop fans have been getting from entertainment companies are causing them to become slightly impatient about the upcoming debuting boy groups.
The following list consists of confirmed upcoming debuts and also debuts that fans hope that will happen in 2019.
#1 Brand New Boys
Lee DaeHwi, Park WooJin, Lim YoungMin and Kim DongHyun... These are familiar names that K-Pop fans have been hearing frequently. If you do not already know, these boys appeared on "Produce 101" Season 2 as well and was complimented on how ready they were to debut as a group during the very first level evaluation. Although it is unsure if new members will be added into the group, fans are hoping that they will debut hopefully in 2019.
#2 YG Entertainment New Boy Group
We all know that YG Entertainment has been planning to debut a new boy group in 2019 especially since they have been airing "YG Treasure Box" on V-Live. Currently, the number of members in the team is known to be 5 but there might be a chance that the number might increase. Loyal YG fans are also curious about who will become the members of the final team.
#3 Big Hit Entertainment New Boy Group
It was reportedly said that Big Hit Entertainment will be debuting a new boy group after 6 years in early 2019. Although the number of members was originally said to be 5, some revealed that it is not the fixed number! Since their senior is none other than BTS, many are already paying attention to this upcoming group.
#4 "Produce 101" Season 4
After completing Mnet "Produce 48", Mnet is set to return with a brand new season with male trainees in 2019. If loyal viewers were not wrong, they believe that there might be a chance that 11 or even 12 trainees will be chosen to form this new, temporary boy group.
#5 HNB Boys
If you have watched "Produce 101" Season 2 and "Mixnine", you are going to definitely remember some members of the HNB boys from the shows. It seems like Happy Face Entertainment has yet to update any announcement about news of them debuting but many fans are hoping to hear that it will happen in 2019.
#6 RBW Boys (ONEWE, ONEUS)
Some might remember ONEUS and ONEWE as they are the male trainees from RBW Entertainment which houses MAMAMOO. Some of the members made their appearance on "Produce 101" Season and after the season had ended, many of their fans are waiting for their official debut. It was also reported that ONEUS will be debuting on January 9th 2019!
#7 WayV
SM Entertainment had finally dropped the teaser of Chinese unit of NCT and called them WayV on January 1st 2019. The rumors have been out for awhile and fans have been speculating that it is a unit made to target the Chinese market. Members will include Ten, WinWin, Kun, Lucas and SM Rookies YangYang, XiaoJun and Hendery.
#8 VERIVERY
VERIVERY is the younger brother group of VIXX under Jellyfish Entertainment! They have been teasing fans for quite some time and it is also reported that they will be debuting on January 9th 2019. With their reality TV prior to their debut, it seems like fans could not get enough of them!
#9 WITZ
WITZ is a 3-member boy group under Choon Entertainment which houses Jin LongGuo. These 3 sweet looking boys are bound to capture your heart as it was also noted that they will be launching a new reality program just for them! Get ready as they are going to debut also in 2019!
#10 TREI
TREI is also another group that consists of 3 members! If you did not know yet, they are from the same company as EXID, Banana Culture Entertainment. One of their members used to be a member of K-Pop group, C-Clown and had appeared on JTBC "Mixnine". Prior to their debut, they had also released  their pre-debut album "NIKE". It is expected to see them debut officially in early 2019.
Read More : Upcoming K-Pop Comeback & Debut Lineup In January 2019