The 10 lovely girls of Cherry Bullet returns for the first time after their debut with their 2nd single album [LOVE ADVENTURE] on May 22.
[LOVE ADVENTURE] consists of 3 different tracks, 'Really Really', 'Ping Pong' and 'Ruddy'.
Kpopmap was invited to their exclusive media showcase and was greeted by an AR experience outlet right outside the venue. If you did not already know, Cherry Bullet had came up with 'Love Adventure AR Game' concept for this comeback.
Clad in matching white and pink outfits, the girls began the showcase with their title track 'Really Really' which is based on a tropical house and modern pop genre.
This track allows the girls to showcase their never-changing bubbly, energetic and fresh images. In addition, it also touches on the honest feelings of telling someone that they really like them!
Aside from their title track, Cherry Bullet also performed 'Ping Pong' which is used as a metaphor to describe the relationship when two people are in love.
It is a powerful vocal chop based track filled with catchy lines and layered with rich beats. 'Ping Pong' also has dance moves that involve the use of making hearts with their fingers!
Thanks to these two powerful stage performances, the atmosphere of the press showcase was brought up.
Continuing with a photo time session, the girls greeted and posed in front of the reporters with smiles. For more exclusive photos by Kpopmap, you can check it out here.
Finally, the time which many have been waiting the most was the Q&A session when curious questions were directed to them.
It has only been about half a year since they debuted and they were asked about sharing the moments when they felt they had really debuted.
HaeYoon mentioned that she was surprised to see people recognizing her and with that, the members also began to pay more attention to their appearance. BoRa continued by sharing that events such as fansigns and fanmeetings were the moments she felt that she has fans supporting her.
In addition, MiRae confessed that she felt a sense of achievement when she hears Cherry Bullet's songs being played along the street. That was when she felt that she had really debuted.
Despite the fact that Cherry Bullet consists of 10 members, the girls perfectly pulled off the intricate and complex formation for their choreography.
HaeYoon shared that they had spent a lot of time practicing in front of the mirror and the hardest part was when they had to lift their legs up. BoRa also revealed that despite them doing the 'same' moves, each members had also developed their own 'colour' by slightly tweaking the choreography when it comes to their part.
Touching on this single album, the girls explained that they really excited about this concept as they had incorporated AR into their music.
MiRae further elaborated, sharing that it is one of Cherry Bullet's distinctive feature that no other group has.
May and Kokoro then became the center of topic when the girls were asked to choose which members suit the concept the best this time. Both of them received the highest number of votes as they suit the lovely and fresh image.
BoRa also emphasized that May had the perfect visual and during the first part of the chorus, her facial expression was extraordinary too.
With the showcase coming to an end, they shared their goals for this comeback and revealed that they want to become a girl group with more recognition from the public. JiWon also jokingly mentioned that she also hope that through this comeback, the public would also recognize them as a group who is a master in changing formations.
Congratulations to Cherry Bullet on their comeback!
Read More : Reason Why Cherry Bullet's Main Vocalist, HaeYoon Is Irreplaceable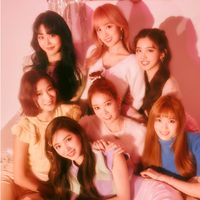 Became a fan of Cherry Bullet
You can now view more their stories