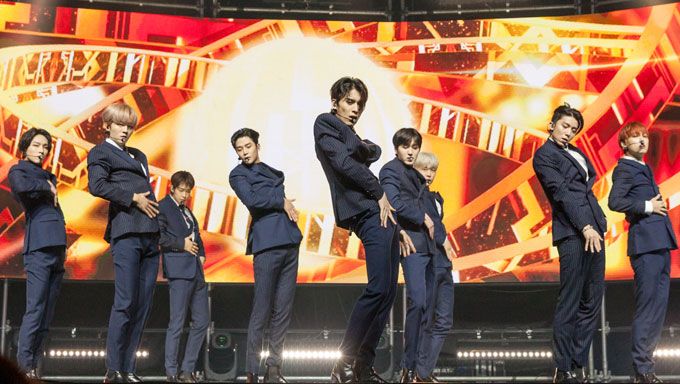 FANTASY has been waiting and SF9 is back with their first album "FIRST COLLECTION" and title track 'Good Guy'. This comeback is an important turn for SF9 by making their music known to a larger public than ever.
In 2019, the group has been rising significantly in popularity. RoWoon gained popularity thanks to his good acting as the lead actor of the popular drama "Extraordinary You". Bringing light to the group, new fans entered the fandom.
In and out of Korea, eyes are focused on the first comeback of the group following the end of the drama and the acquirement of an important number of new FANTASY.
Kpopmap was invited to the showcase held on Jan. 7. YoungBin, InSeong, JaeYoon, DaWon, RoWoon, ZuHo, TaeYang, HwiYoung, and Chani blessed us with stunning performances, dashing looks with suits, and a well-prepared album. We could feel "SepGu fatal".
The album was released on Jan. 7 at 6 PM (KST) but the group surprised fans with an early release of 'Good Guy' MV last Sunday at midnight. The MV has now accumulated more than 7 million views (as for Jan. 8, 10 AM KST). If you have not yet it watched, you can below.
The group is coming back with their very first full album. Since their debut in 2016, the group has been releasing 8 title songs (with 1 single album and 7 mini albums) with the latest being "RPM". These 8 are compiling to become a 9 and it also means that all the members are becoming one.
According to their concept, the number 9 means completion and a new start. This is represented by the golden bracelet, one of the key points for this comeback. In the video, InSeong is the one representing the number 9 by wearing the bracelet.
During the showcase, RoWoon showed the bracelet on his wrist during the photo time. You can also notice that this comeback logo has a 9 inside of the bracelet.
The album has two versions GOLDEN RATED and BLACK RATED. The members stunned in a classy and sophisticated suit concepts.
The album is composed of ten songs. The members have participated largely in the album. For the lyrics, ZuHo participated in 10 songs, HwiYoung in 8 songs, YoungBin in 7 songs, and Chani in 6 songs.
As for the song 'Dance With Us', ZuHo participated in all the stages of the song. It is a song that gives strengths. Moreover, all the members participated in the fan song 'Beautiful Light' which was first released during "2019 SF9 LIVE FANTASY #2 UNIXERSE" last summer. It tells the members' message for FANTASY.
During the showcase, SF9 performed 'Good Guy' and 'Like The Hands Held Tight', two songs showing the opposite charms of the group with perfect performances and vocal/rap skills. Don't forget to check all of our HD exclusive pictures here.
Then, members answered questions.
What is the point you paid special attention to?
We paid attention to everything and especially to the dance. Members gave ideas and TaeYang and YoungBin participated in the creation of the choreography. We also paid attention to all the songs, costumes, hair, and even makeup.
InSeong
Do you like the suit concept and overall concept?
Fans really wanted to see this concept so we decided to go for suits. All 9 members also wanted to see this concept. When we held a meeting with the agency, I focused my research on actor George Clooney who looks naturally sexy by just wearing a suit. I'm glad this concept came out well.
JaeYoon
We like hair, makeup, suits,... etc. We all love this concept.
YoungBin
Who is the one that suits suit the most?
I think RoWoon. He is tall and has a good figure. He looks cool with a suit.
Chani
I think JaeYoon is the coolest. He usually exercises but did even more for this comeback. It looks like JaeYoon spent 25 hours a day at the gym.
RoWoon
I exercised more than usual. It seems like I spent 25 hours a day at the gym.
JaeYoon
What is the point of 'Good Guy'?
It is "Homme Fatal". It is "SepGu Fatal".
TaeYang
In Korean, SF9 is also called SepGu (셒구) so "SepGu Fatal" is a wordplay between SF9 and Homme Fatal.
RoWoon, you received the Best New Actor Award at the 2019 MBC Drama Awards for your role in "Extraordinary You", how do you feel?
Chani received a lot of interest from the public with "SKY Castle" and I felt proud. The interest in Chani brought interest in SF9. When filming for "Extraordinary You", I wanted to try my best instead of expecting that the drama does well. It seems that it has brought interest to SF9. I feel proud and I am thankful to the member who waited for me during these 6 months of filming. I tried my best with this album.
About the award, I felt happy to received it with my friend [Lee] JaeWook. For the speech, I was so nervous that I forgot to thanks members, family, agency, fellow actors, etc.
RoWoon
RoWoon continued by thanking sincerely -and largely- all these people who have been with him, especially his family who has raised him and the members who have given him support during the filming of the drama.
It is a "First" collection so is there going to be a next collection?
We are starting again with this album. We will probably continue the collection. We are talking about it in the agency. For now, this is all I can say.
YoungBin
Online, there has been some talks about the song 'Good Guy' title. It has some similarity with other FNC songs title, 'Good Luck' by AOA and 'Good Bam' by N.Flying.
We heard about it. We wanted to use the positive word of 'Good' and to take good energy from our sunbaes.
InSeong
It also refers to "9lory" where G is a 9. It is a key point. It is part of this concept and future albums. G represents 9 and there is a G in 'Good Guy'.
YoungBin
Which member do you think will get popular in 2020?
Like I always say to the members, our team is cool on the inside and on the outside. Individual member is individual member but I think it will be the year where the team comes to shine first. Rather than an individual member, I think it will be nice and better for our team to shine first.
RoWoon
Do you feel any pressure with this album?
It is our first full album so there is a burden however I want to overcome the pressure and show you our coolest sides.
HwiYoung
What are your 2020 goals?
I feel everyone has their own vision of success. I feel successful every time I think of FANTASY. As for 2020 goals, I think 1st win. We never had 1st win. In 2020, with a sincere heart, we will make music and perform on stage.
YoungBin
I feel there should be no rush and show our own colors. At the right time, the public and fans will notice. I hope that in 2020, SF9's name and SF9's music get to be recognized by the public.
ZuHo
SF9 members are all well prepared to conquer farther the K-Pop scene with an album of quality in which all the members added their own colors by active participation and close teamwork.
Read More : Exclusive Photos: SF9 1st Album "FIRST COLLECTION" Comeback Showcase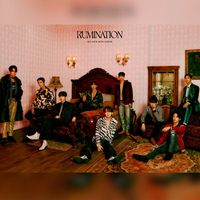 Became a fan of SF9
You can now view more their stories