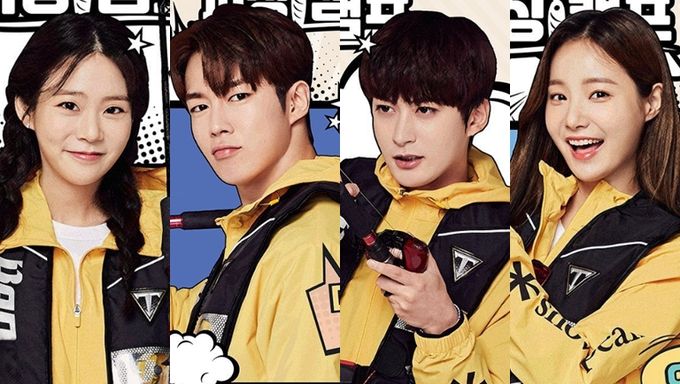 "Idol Fishing Camp" is a fishing variety show.
The show reunites different generations of idols with different experiences in fishing who will learn how to fish. The show was filmed in Jeju Island.
Here is more information.
Idol Fishing Camp
Information
Title: Idol Fishing Camp / Aidol pisingkaempeu / 아이돌 피싱캠프
Genre: Variety TV Program
Director: Choi YooSoo, Choi HeeSeung, Kang DongWan, Joo SeungHo, Moon SiYeon, Kim BoMi
Writer: Park JiEun, Kim MinWook, Kang MinJung, Jo HyeSun
Network: JTBC
Runtime: From June 18
Air Time: Thursday 6:25 pm KST
Language: Korean
Summary
A generation with eight million of people fishing! Korea ranks first in the world in terms of the number of people fishing compare to the entire population! Idols are missing from Korean's national leisure activity? Idols who can do everything from dance, singing, acting, and variety shows will challenge a fishing competition. Can novice idol survive among professional fishers? It tells their unusual training process and their improvement in fishing while starting to fish in Korea with the goal of going on an international fishing competition. There is no flamboyant lighting and no big spectator, it is a real fishing competition.
Cast
Tony Ahn - Level in Fishing: ★☆☆☆☆
Lee JinHo - Level in Fishing: ★★☆☆☆
ex-KARA's Han SeungYeon - Level in Fishing: ★★★☆☆
Block B's JaeHyo - Level in Fishing: ★★★★☆
SF9's DaWon - Level in Fishing: ☆☆☆☆☆
ex-MOMOLAND's YeonWoo - Level in Fishing: ★★☆☆☆
Interesting Facts
Here is one of the teasers.
Here are the official posters.
You can follow the official Instagram account below.
https://www.instagram.com/p/CBPMMKhF2Jm/
Read More : SF9's DaWon Visits TXT Event Cafe & Interacts With MOA on "WDDD"
Read More : SF9's DaWon Opens Individual Instagram & Posts Funny And Boyfriend Material Pictures