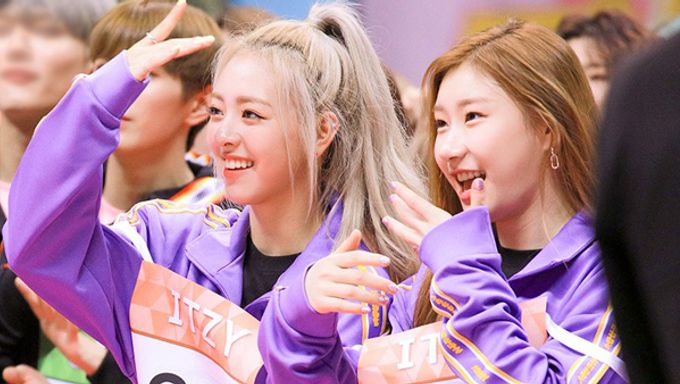 The long awaited MBC "Idol Star Athletics Championships" will return this Seollal in end of January 2020! Although the airing date has yet to be announced, many fans are already waiting for this upcoming program.
As usual, many freshly debuted idol groups will be joining the program and show off their athletic sides.
Stay tuned as we will continue to update the list!
2020 Idol Star Athletics Championships Seollal Lineup
MCs: Jeon HyunMu, Super Junior's LeeTeuk, TWICE's DaHyun
Boy Groups
SF9, MONSTA X, VICTON, NCT DREAM (ChenLe, Jeno, JaeMin), ONF, N.Flying, Stray Kids, Ha SungWoon, Kim JaeHwan, Jeon SeWoon, Golden Child, Seven O'Clock, SPECTRUM, BDC, VERIVERY, 1TEAM, AB6IX, DONGKIZ, Newkidd, South Club, Super Junior's ShinDong, ATEEZ, Noir, UP10TION (SunYoul & HwanHee), JBJ95, GreatGuys, Park Jihoon, 1THE9, We In The Zone, ONEUS
-To Be Updated-
Girl Groups
AOA's HyeJeong, ITZY, LOONA, OH MY GIRL, Gugudan, WJSN, Apink's BoMi, MAMAMOO's MoonByul, April, DIA, MOMOLAND, Saturday, Nature, GWSN, Rocket Punch, 3YE, PURPLEBECK, ARIAZ, Hashtag, Cherry Bullet, Pink Fantasy, (G)I-DLE
-To Be Updated-
Categories
Short Track 60m (Female)
Rocket Punch's YoonKyung & SuYoon, April's JinSoul & YeNa, WJSN's Luda & EunSeo, Cherry Bullet's JiWon & May, LOONA's Olivia Hye & Yves, NATURE's SaeBom & RoHa, MOMOLAND's Nancy & Jane, DIA's EunChae, GWSN's SeoRyeong, ARIAZ's YeRi, Hashtag's AeJi
Short Track 60m (Male)
VERIVERY's KangMin, DONGKIZ's WonDae, ATEEZ's HonJoong & SeongHwa, VICTON's Chan & SeungSik, BDC's Kim SiHoon, 1THE9's Jeon DoYeom, GreatGuys's HwalChan
Relay (Male)
VERIVERY, VICTON, Golden Child, DONGKIZ, ATEEZ, SF9, ONF
Relay (Female)
WJSN, GWSN, LOONA, Cherry Bullet, Nature, MOMOLAND
Archery (Male)
SF9's InSeong, RoWoon, & Chani, NCT DREAM's JeNo, ChenLe & JaeMin, MONSTA X's MinHyuk, HyungWon & I.M, Stray Kids's Lee Know, HyunJin & Felix
Archery (Female)
WJSN's YeoReum, DaYoung & BoNa, OH MY GIRL's HyoJung, YooA & SeungHee, ITZY's YuNa, Lia & ChaeRyeong, Gugudan's HaNa, SeJeong & NaYoung
Penalty Kick
VICTON's ByungChan, Chan & SuBin, Kim JaeHwan, Ha SungWoon, Jeong SeWoon, SF9's RoWoon, InSeong & YoungBin, Stray Kids' Bang Chan, SeungMin & HyunJin, VERIVERY's KangMin, N.Flying's HwiSeung & ChaHoon, SEVENTEEN's SeungKwan, Hoshi & Dino
Wrestling (Male)
VICTON's SeJun, Chan & SuBin, SF9's YoungBin, DaWon & JaeYoon, ONF's HyoJin,U & Wyatt, ATEEZ's WooYoung, MinGi & YeoSang, VERIVERY's DongHeon, GyeHyeon & YongSeung, Golden Child's JangJun, DaeYeol & SeungMin
Wrestling (Female)
MOMOLAND's JooE, AhIn & HyeBin, DIA's Eunice, EunChae & HeeHyeon, Cherry Bullet's ReMi, ChaeRin & BoRa, LOONA's Olivia Hye, HyunJin & JinSoul
Pitching
Apink's BoMi, Cherry Bullet's JiWon, ITZY's YeJi, AOA's HyeJeong, LOONA's Chuu, DIA's Jung ChaeYeon, MAMAMOO's MoonByul, Gugudan's SeJeong
e-Sports
Park JiHoon, Kim JaeHwan, Ha SungWoon, AB6IX's Lee DaeHwi, THE BOYZ, ONF, LOONA, Stray Kids, NCT DREAM's JiSung, Jeno, ChenLe & JaeMin, Golden Child,
Horse riding
SouthClub's TaeHyun, JBJ95's Kenta, OnlyOneOf's JunJi, SF9's Zuho, THE BOYZ's Joo HakNyeon, (G)I-DLE's YuQi, WJSN's DaYoung, MOMOLAND's HyeBin
[INFO]
Recording Date: Dec. 16, 2019 Monday & Jan. 6, 2020 Monday
Venue: Samsan World Gymnasium
Air date: Jan. 24 at 5:50 PM, 25 at 10:40 AM, 26 at 5 PM (KST)
Read More : "ISAC 2020" Seollal Available To Watch Live Stream On Kocowa