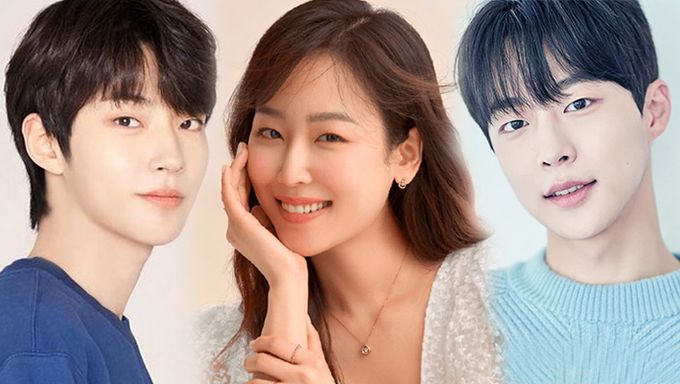 "Why Oh SooJae?" is a drama that explodes with romance at a law school.
Hwang InYoup is in talks to play the first male lead. The confirmed leads in this drama are Seo HyunJin and Bae InHyuk. 
Seo HyunJin otherwise knows as the "RomCom Queen", will show a completely different side of herself in this drama. She has starred in the dramas "Dr.Romantic", "Temperature Of Love", "The Beauty Inside", and "You Are My Spring". When Seo HyunJin was asked why she wants to play the role of SooJae she replied "I want to play an evil woman."
Hwang InYoup debuted as a model in 2017 and rose to fame when he appeared in the drama adaption of the webtoon "True Beauty". He also appeared in the dramas "WHY", "Freshman", "The Tale Of Nokdu", and "18 Again". He is now one of the most followed actors on Instagram.
An official from Keyeast agency said "Hwang InYoup received an offer to appear in the new SBS drama "Why Oh SooJae?" and is considering it."
Bae InHyuk debuted in 2019 and has since appeared in the web dramas "Kiss Scene in Yeonnamdong", "XX" and the dramas "The Spies Who Loved Me", "My Roommate Is A Gumiho", and "At A Distance, Spring Is Green." 
Writer Kim JiEun ("Cheongdamdong Scandal", "Enemies From The Past", "Lie After Lie") and director Park SuJin ("Doctors", "Dr. Romantic", "While You Were Sleeping") will be in charge.
Here is more information.
We will keep on updating, stay tuned.
Why Oh SooJae? (2022)
Information
Title: Why Oh SooJae? / Wae Osujaeinga / 왜 오수재인가?
Director: Park SuJin
Writer: Kim JiEun
Network: SBS 
Runtime: 2022
# of Episodes: -
Genre: Romance
Language: Korean
Summary
A drama that depicts a painful, exciting, but warm love story about a woman who took a wrong turn in life, but eventually rights her wrongs through love for a man and finally choosing to love herself.
Cast
Seo HyunJin as Oh SooJae
SooJae is an eccentric and naughty law school professor. She is the target of Choi YoonSang's unrequited love.
Hwang InYoup (in talks) as GongChan 
Gongchan is a first-year student at SeoJung University Law School and the owner of a bar. He was falsely accused of a crime in the past and was imprisoned. Eventually, his name was cleared and it was declared he faced unfair imprisonment. He reunites with SooJae during her time as an adjunct professor.
Bae InHyuk as Choi YoonSang
YoonSang is the second son of TK Law Firm Chairman Choi TaeGuk and a sophomore at SeoJung University Law. He developed a crush on his tutor, Oh SooJae, who he later meets again as his professor when he becomes a student at a legal clinic.
Teaser & Posters
-to be updated-