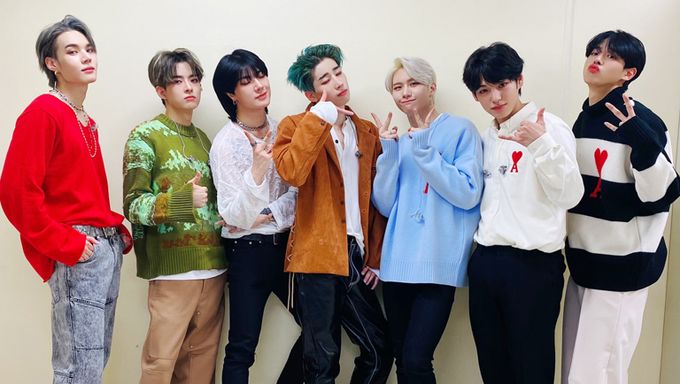 2020 has been not a very good year for many and for K-Pop fans, the opportunities for them to attend live broadcast, fanmeeting, fansigns and even concerts disappeared into thin air.
While there are new methods such as online streaming and online fansigns for fans to interact with their favourite K-Pop idols, it is just not the same as being in the same place at the same time.
The improvement of situation in Korea had slowly opened up offline K-Pop events and fans of VICTON, ALICE, rejoiced as they had opened up a small amount of offline tickets for their 4th anniversary fanmeeting "BACK TO THE WONDERLAND". (It is available both offline and online).
On Nov. 8, Kpopmap's editor managed to get a ticket and headed down with an excited and nervous heart.
VICTON's 4th anniversary falls on Nov. 9 and the boys decided to celebrate it together with ALICE a day before. The last time they had seen their fans before the worldwide pandemic kicked in was through their 1st concert "New World" held earlier this January.
In lieu with the special day, VICTON had also been sharing teaser photos as well as hilarious 'Balance Game' videos of each members on their official YouTube channel as part of the special 4th anniversary content.
Not just ALICE but also VICTON was excited to see and perform in front of them after such a long time.
View this post on Instagram
Member SeJun had posted on his Instagram prior to the start of the fanmeeting and shared how he gets to see ALICE.
The opening of the fanmeeting began with 'Howling' and it was the first time that they were able to perform the song with an audience. While it was advised that ALICE should not shout, they replaced cheers with applause and the waving of the official lightstick.
After catching their breath and finally looking in front of the stage, the members became emotional as they finally get to see ALICE after 10 months.
The fanmeeting continued with a slight chit-chat with the MC before moving on to hilarious game corners and VCR of them in "2016 VS 2020". VICTON was divided into the 'hyung' and 'dongsaeng' groups before using voice distortion to 'hide' their identity and shared things that they wish a particular member would change or improve.
In another game, they had to get to draw on a member's back in a relay manner so that the last member get to guess what the first member had drawn. It was chaotic and hilarious. Even though none of them were able to guess correctly but after all, it was a game which VICTON and ALICE had enjoyed.
Other stage performances include their latest title track 'Mayday', soothing and lovely 'Celebrate', emotional 'Time Of Sorrow', debut title track 'I'm Fine' and energetic 'BLANK'.
For some, 4 years might not have been a long time but for VICTON and ALICE, the 4 years have been filled with smiles, tears and even pain. Many would recall that just a year ago, members SeungWoo and ByungChan had appeared on Mnet "Produce X 101" in an attempt to raise the group's popularity.
Initially, the news had broken the hearts of many ALICE but it had also allowed the group to gain so many new fans.
Since then, VICTON rose with popularity and also has been breaking their own records such as album sales, music video views and more.
Before closing up on the fanmeeting, VICTON performed to their last song 'Because Of You' with adorable and comical head gears. Each of the members were moving to the sides of the stage, making sure to wave and say hi to fans by the sides and even those watching from the 2nd floor.
"I was touched at first, but I came to think of enjoying this moment with them. During the time of promotions, I was used to not having ALICE in front of me, but thank you for filling up the venue. I'll get good energy and work hard on my album." said SeJun.
The heart warming, hilarious and unexpected charms of VICTON members are probably one of the few qualities that attracted ALICE. While it might be their 4th year as a group, the members promised to work even harder to show a better and more mature side of them.
The 150 minutes long fanmeeting came to an end and it was a moment that both VICTON and ALICE dreaded. However, the end also signaled a new start as about a week before the fanmeeting, VICTON had also announced that they will be making a comeback on Dec. 1.
During the fanmeeting, they had also unveiled for the first time a new special logo.
[#빅톤]
VICTON SPECIAL LOGO POSTER

2020.12.01#VICTON pic.twitter.com/aC7uQ0TISE

— VICTON(빅톤) (@VICTON1109) November 8, 2020
It was later revealed that they will be releasing their 1st full length album "VOICE : The future is now".
VICTON had celebrated their 4th anniversary on happy note with ALICE all over the world and it is expected that with their impending comeback in December, many could anticipate even more from them in the future.
Congratulations to VICTON!