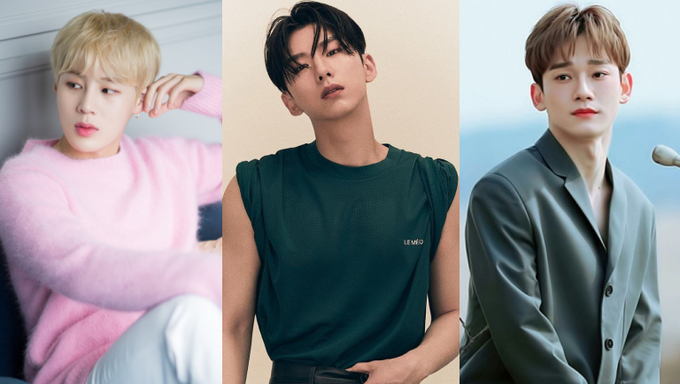 'A K-Drama is never complete without a soundtrack.'
K-Drama soundtracks always add a special feeling to the series giving more life and feelings to a scene, they help convey the message of the series, evoking the right emotions from the viewers.
While so many fans tune in every week to watch their K-Dramas because of the plot or to see their favorite actors, many also talk about how great the Official Sound Tracks (OST) are.
The mantle of a great and beautiful OST for a long time have always been placed on Idols, who use this opportunity to show their exceptional and unique musical abilities, and over the years, we've been able to get great songs like 'Stay With Me' by EXO's ChanYeol and Punch, for the hit series "Goblin: The Lonely God", 'Orbit' by Hwasa and 'Sweet Night' by BTS' V. 
With so many idols lending in their incredible singing talents to some of our favorite series, one might ask, it is often so hard to decide which ones are our favorite, or which idols are leading the pack in the genre, these are some of our picks. 
The lead vocalist of one of the most popular and awarded K-Pop groups in history, EXO is also widely known for his solo works especially as a Soundtrack singer.
The 'Hello' crooner who is also widely popular for rendering his remarkable vocal skills, releasing songs for hit K-Drama series like "Descendants of the Sun", "Moon Lovers: Scarlet Heart Ryeo", "100 Days My Prince", "Touch Your Heart", "Chief of Staff" and most recently "Do You Like Brahms?". 
The K-Pop Idol is undoubtedly one of the most sought-after singers by many production companies and rightfully so as Chen is regarded as one of the best vocalists in K-Pop right now.
Fans and audiences alike have often been left in awe of his vocal talents, always complimenting how powerful, raw and emotional his voice is, and how his songs always perfectly suit the dramas. 
The singer has released songs for hit series such as: "The Last Empress" and "Terius Behind Me" but it wasn't until 2020 that he gained prominent and worldwide recognition following the astounding success of the drama series "Itaewon Class". 
He released the song 'Start Over' which charted at number one on Gaon Music Charts and also won the "Best OST Award" at the 22nd Mnet Music Awards in 2020. The song made fans across the globe fall in love with the series even more for its catchy tune and rhythm. 
This success propelled the singer to becoming an OST favorite as he has sung in various hit series like: "Stranger 2" and "Start-Up".
He has also gained popularity with his solo work having released his debut album back in 2018 with hit singles like 'Pink Walk' and 'Fly' and his new single 'Rush Hour' is a radio favorite gaining over 1 million plays on Spotify. 
He is also a fan favorite for his amazing covers like Olivia Rodrigo's 'Driver's License' with Kim WooJin, BTS' 'Fire', and BLACKPINK's Rosé 'On The Ground'. 
The former Wanna One member debuted as a soloist on February 28, 2019, with the single 'Bird' gaining popularity for his incredible vocal ability.
He is now a favorite for TV shows soundtracks, lending his voice to popular dramas like: "Her Private Life", The King: Eternal Monarch", and "True Beauty".
Click here to watch his latest comeback single 'Strawberry Gum'.
4. Sam Kim
The 23-year-old singer made his official debut back in 2016 with his hit album "I Am Sam" which peaked at number 11 on the Gaon Music Charts. He gained more popularity and recognition for his soulful voice when he released his OST for the hit drama series "Goblin: The Lonely and Great God."
He has also released 'Scent' for the series "Search: WWW", 'Breath' for the hit tvN series "It's Okay To Not Be Okay" and more recently, 'Love Me Like That' for the JTBC and Netflix distributed series "Nevertheless".
Click here to watch his recent cover of BTS's 'Butter'. 
MONSTA X are known to be one of the most talented K-Pop groups for years now and main vocalist KiHyun is one of the key reasons why they're so popular. He is widely known for his phenomenal vocal range and talents, and his ability to belt notes that make everyone swoon in awe.
Since his debut, his raw and emotional sound has made him one of the favorites for the series soundtrack, releasing songs for some of our favorite series like "She Was Pretty", "Shopping King Louie", "Suspicious Partner", "What's Wrong With Secretary Kim" and the 2020 hit series "Do Do Sol Sol La La Sol".
Check out his recent cover of Tom Grannen's 'Little Bit of Love' here.
The singer first came into the spotlight with competition shows like "K-Pop Star" and "Produce 101". After signing with Starship Entertainment, in 2017 he released his first EP which peaked at number two on the Gaon Music Charts which gained him a lot of praise and commendations for his impressive vocal skills.
His popularity has also made him an OST favorite, releasing beautiful songs for hit series like "Wok of Love", "What's Wrong With Secretary Kim", "Touch Your Heart",  Extraordinarily You", and "My Roommate is a Gumiho".
Watch his recent performance on KBS WORLD TV here.
An idol with a long list of OST features under his belt. He has a total of 26 songs so far, making him one of the most sorted after idols when it comes to the series soundtrack. 
A master singer globally known for his vocal ability, his voice is so touching and emotional, and his ability to use his music to bridge a connection between the series and viewers is one of the key reasons why he is one of the idols with so many OST for series like "To The Beautiful You", "Hit the Top", "When the Weather is Fine", and "Hospital Playlist".
The main vocalist for group B1A4 is often called a musical genius because of how great and beautiful his sound is. A theatre favorite, since his debut, he has starred in various musicals like "All Shook Up" and "The Three Musketeers" further impressing the audience with his remarkable vocals and acting skills.
He has appeared on singing shows like "King of Masked Singer" and "Immortal Songs" where he gained recognition and applauds for his vocal ability. 
He has also released songs for some of our favorite K-Dramas and movies like "Love in The Moonlight", "Lovely Horribly", "The Secret Life of My Secretary", "Tale of NokDu", "Start-Up", and "She Would Never Know".
9. Lee SeungYoon
Another remarkable and powerful soundtrack 'We Are' from the hit JTBC drama series "Law School".
The singer first gained recognition as the contestant and ultimate winner of JTBC's "Sing Again". His deep soulful voice in this song drew lots of fans and attention to him and the song now has over 1 million streams on Spotify. 
He also released a powerful soundtrack for the tvN hit thriller series "Mine".