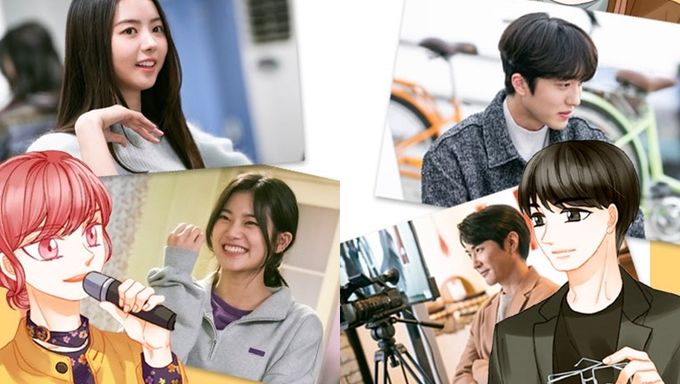 The drama "Imitation" based on the popular webtoon of the same title is attracting the attention of K-Drama, K-Pop, and also webtoon fans.
Jung JiSo, ATEEZ's YunHo, SeongHwa, JongHo, and San, SF9's Chani and HwiYoung, U-KISS's Jun, T-ARA's JiYeon, ex-PRISTIN's Lim NaYoung, Park Yuri, Ahn JungHoon, MinSeo, Boys' Republic's SuWoong, g.o.d's Danny Ahn and Shim EunJin are the cast of this KBS drama which tells the stories of idols in the entertainment industry.
On Feb. 24, Kakao released the first still cuts of TEA PARTY's HyunJi acted by Lim Nayoung, TEA PARTY's Ria acted by MinSeo, ex-SHAX's Eunjo acted by SF9's Chani and TEA PARTY's agency CEO JiHak acted by g.o.d's Danny Ahn.
Have a look at them below.
You can check out their casting stories released by KaKao here in Korean in a webtoon format by "Imitation" author Park KyungRan. In the following weeks, more pictures will be released.
On Feb. 24, Kakao also released "Imitation" music video, check it below.
For more about the drama (all characters description) and webtoon check our cast and summary here. It was reported that the drama will start on May 21 after the end of "Dear.M" (note that with the postponement of "Dear.M'"s first broadcast, "Imitation" previously announced premiere date might no longer be accurate).
Are you also looking forward to this drama?