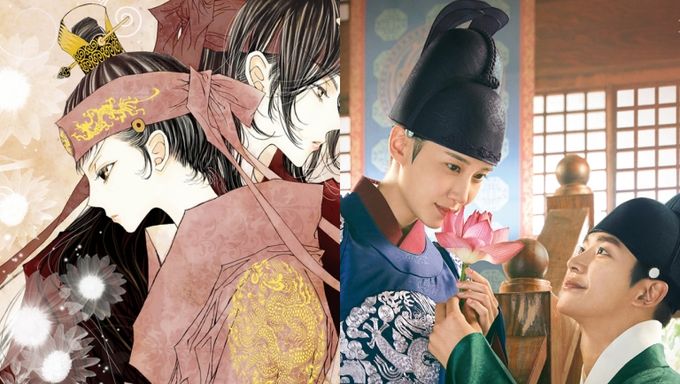 "The King's Affection" is one of the most highly-anticipated new KBS drama releases. The first episode aired yesterday on Oct. 11, 2021. You can watch it on Netflix as well. 
The drama has received a lot of interest from netizens because of its casting. It stars SF9's RoWoon, Park EunBin, Nam YoonSoo, VICTON's ByungChan, Bae YoonKyung, and DIA's Jung ChaeYeon. 
Many K-Drama fans, however, might not know that the drama is originally based on a webtoon. "The King's Affection" webtoon has the same title as the K-Drama's Korean title "Yeonmo (연모)" and was written and drawn by Lee SoYoung. 
You can read the webtoon in Korean here.
"The King's Affection" is about an abandoned girl who was born as a twin. She was abandoned because she was a girl but when her twin brother died she took on his identity as the crown prince. She has to focus on hiding her identity. 
Let's meet the characters from the webtoon.
Lee Hwi
She is the protagonist mentioned before and played by Park EunBin in the K-Drama.
Jeong MiSoo
There are a lot of love lines in the webtoon. One of them is a romantic line between Lee Hwi and Jeong MiSoo. Jeong MiSoo is a guard warrior who is very important in the webtoon.
Jung Jeon
Jung Jeon is a woman who falls for the gentlemanly persona of Lee Hwi which gives the webtoon some GL undertones.
JaEulSan 
JaEulSan is Lee Hwi's first cousin and also seems romantically interested in Lee Hwi before realizing that she is a girl. This gives the webtoon some BL undertones.
Just from the characters mentioned above, it is very clear that the K-Drama has been changed a lot from the webtoon. There may be a lot of differences.
You can read about the differences between the K-Drama and Webtoon here.
You can check out more articles like that in K-Dramas That Are Different To Their Webtoons.
Have you watched the first episode of the drama? Will you be reading the webtoon, too?