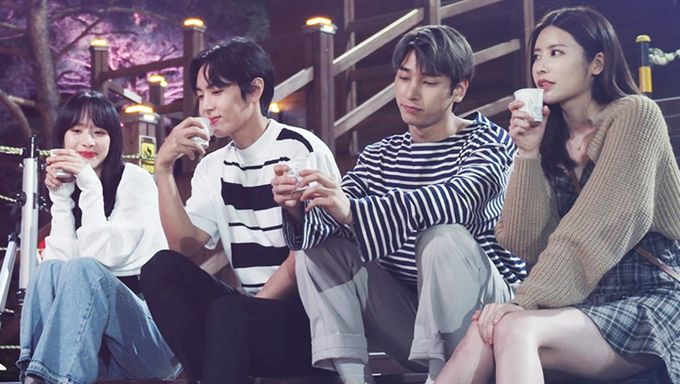 "Love In Black Hole" is an SF fantasy romance web drama.
BAE173's HanGyul, WJSN's SeolA, SF9's JaeYoon, BAE173's DoHa, and DIA's HuiHyeon are cast for this web drama.
BAE173's HanGyul is debuting in acting. WJSN's SeolA has plenty of acting experience including the main roles in "In-Out Sider", Netflix "Goedam", "The Secret of the Grand Mansion: The Missing Girls", etc.
JaeYoon first acted in the SF9's debut web drama "Click Your Heart" and made a guest appearance in "Was It Love?" in 2020. He is the 8th SF9 member to actively start his acting career with this web drama (Yoo TaeYang is the only SF9 member who has only acted in "Click Your Heart").
BAE173's DoHa used to be a child actor and have acted in "To The Beautiful You", "Reply 1994", etc. As for DIA's HuiHyeon, she had some experience with "Happy Ending".
Big Picture Mart is in charge of "Love In Black Hole" and previously worked on "Big Picture House", "DokGoBin Is Updating", and more.
Here is more information.
Love In Black Hole (2021)
Information
Title: Love In Black Hole / Reobeu in beullaekhol  / 러브 인 블랙홀
Director:  Hong ChongKi
Writer: Choi Ryong
Network: Big Picture Mart
Runtime: From September 17, From Sept. 10 on WeTV
# of Episodes: 12
Genre: SF fantasy romance
Language: Korean
Summary
It tells the story that happens after EunHa received the letter of someone who likes her delivered through a white hole.
Cast
BAE173's HanGyul as TaeYang
TaeYang is cheerful and is a close friend of EunHa since they are young. He is attending college to get his diploma but he is more interested in drinking, singing, and dancing than studying.
WJSN's SeolA as EunHa
EunHa is living by herself and discovered a white hole in her room. She started to look for the traces of the person who likes her through the white hole. She is a romantic girl who entered the Department of Astronomy and Space to find a star named like her.
SF9's JaeYoon as SungWoon
SungWoon is the most popular sunbae of the school. He does not open his heart due to the pains of a previous relationship. He may look cold-hearted but he is delicate and honest.
BAE173's DoHa as HaeMyung
HaeMyung is a younger man with positive vibes who is in the surroundings of EunHa.
DIA's HuiHyeon as Anna
Anna's parents were against her studying music so she gave up her dream and entered the Department of Sociology.
Interesting Facts
Here is the teaser.
Here are the official posters.
Where to watch
You can watch it on the official YouTube channel of Big Picture Mart, here.