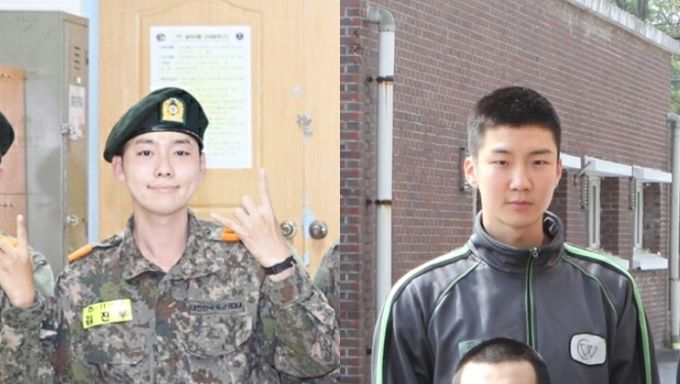 Half of the members of WINNERhad enlisted in the military and their fans, INNER CIRCLE, are already missing them! Not long ago, JinWoo and SeungHoon had begun to serve the mandatory duty for the nation.
Luckily, pictures of them in the military were released and INNER CIRCLE was able to see their current update and condition.
In the first picture, INNER CRICLE could see JinWoo looking fine with the rest of his batchmates.
It seemed like he had also convinced the rest of them to do the WINNER pose, causing INNER CIRCLE to feel really touched by his effort!
As for SeungHoon, INNER CIRCLE was surprised to see that he looked even younger than before!
Needless to say, they also noticed how he had drawn the INNER CIRCLE as well as WINNER logo onto the empty spot of his jacket. His love for his fans is really amazing and once again, those who had seen it could not help but mentioned that they miss him even more.
Although the wait for their return had just started, many INNER CIRCLE also find it comforting to see that they are doing well while serving the nation.
Do you miss them too?
Read More : WINNER's SeungYoon Would Choose To Eat This Food For The Rest Of His Life