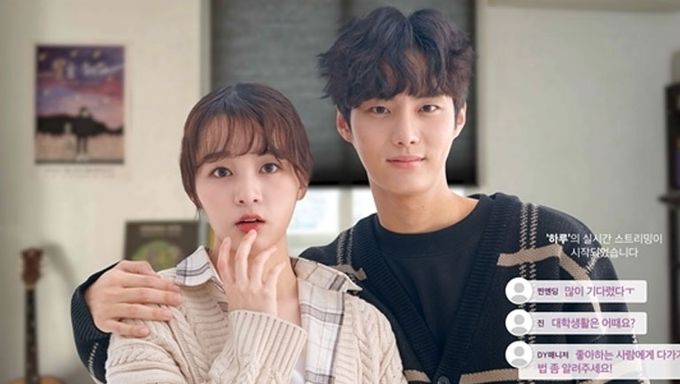 "Romance, Talking" is a romance web drama.
Choi KyungHoon (web drama "The Best Ending" and "True Ending") and Kim SeoYeon (web drama "The Guilty Secret") are the leads along Jung HyoJun, a model part of YGKplus and a participant of "Produce 101" season 2. He previously acted in the web drama "The Witch Store" and other web dramas.
The web drama broadcasts every Tuesday and Thursday at 6 pm KST on Real Ending YouTube. Check the link at the end of the article.
Here is more information.
Romance, Talking (2020)
Information
Title: Romance, Talking/Romaenseu, toking /로맨스, 토킹
Director: Kim SooJung, Park JaeWoo
Writer: Lee SukYong
Network: Pladi x Seezn
Runtime: From Mar. 24
# of Episodes: 8
Language: Korean
Summary
It tells the story that happened when the popular YouTuber that a university girl likes in secret suddenly appeared at her campus.
Cast
Kim SeoYeon as DaYeon
She comes to meet with HyunWoo in real life, he is the YouTuber she watches every day. She is confused about her feelings. She starts to open her heart through an anonymous ID on his show.
Choi KyungHoon as HyunWoo
He is a YouTuber who is doing a love talk show under the stage name Haru. He goes back to school. He noticed DaYeon as she seems to know him and he approaches her.
Jung HyoJun as WooJae
He is the manager at the bar where DaYeon works part-time. He takes care of her from behind when she has a hard time. One day, he decides to express his feelings to her.
Links
Here is the first episode.
Interesting Facts
Here are the official posters.
Choi KyungHoon posted on his Instagram about the drama.
https://www.instagram.com/p/B-CK47GBGTy/
 Jung HyoJun also posted.
https://www.instagram.com/p/B-CItMOhaBk/
Read More : Best 5 Channels To Watch Korean Web Dramas With Subtitles