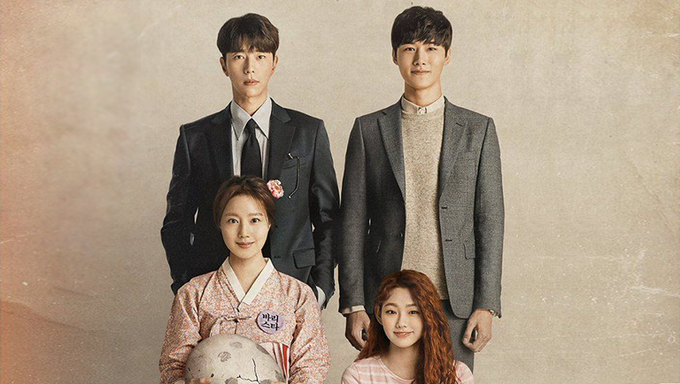 Welcome another drama coming from a webtoon! It is among the various dramas based on webtoon of 2018.
The cast of the drama is amazing and many have high expectations. Moon ChaeWon starred in popular dramas such as "The Princess's Man" (2011), "The Innocent Man" (2012), "Good Doctor" (2013) and "Goodbye Mr. Black" (2016). Her last drama was "Criminal Minds" (2017).
Yoon HyunMin starred in dramas such as "Beautiful Mind" (2016), "The Good Wife" (2016) and "Tunnel" (2017). His last drama was "Witch at Court" (2017) for which he received the Best Couple Award (with Jung RyeoWon) at the 2017 KBS Drama Awards. Seo JiHoon is a new actor who debuted in 2016 in "Signal", he starred in dramas such as "School 2017" (2017) and "Misty" (2018).
Here is information about the drama.
Mama Fairy and the Woodcutter (2018)
Information
Title: Mama Fairy and the Woodcutter/Tale of Gyeryong Fairy/gyeryongseonnyeojeon/계룡선녀전
Director: Kim YoonCheol
Writer: Yoo KyungSun
Network: tvN
Runtime: From November 5th
# of Episodes: -
Language: Korean
Summary
The drama tells the story of a woman fairy that lived in Goryeo and Joseon, she is now a 'barista' in the current time. She is waiting for her husband to reincarnate to be able to get her winged clothing back. Two men appeared to be possible reincarnation of her dead husband.
Cast
Moon ChaeWon as Sun OkNam
A 699 years old fairy. She is waiting for the reincarnation of her husband. People see her as an old woman (acted by Go DooShim), few people can see her youthful appearance. The woman takes care of her coffee shop.
Yoon HyunMin as Jung YiHyun
An associate university professor of Biology Department. He has chronic insomnia. In his previous lives, he was a woman, a deer, etc. He can see Sun OkNam's youthful appearance.
Seo JiHoon as Kim Geum
A student in master degree in Biology Department and assistant of Professor Jung. He is kind and tries his best. In his previous lives, he was also a woman and others. He can see Sun OkNam's youthful appearance.
Gugudan's MiNa as JumSoon/Jum SoonI
Sun OkNam and her husband's daughter. She was reborn as a tiger, but after training, she became a human. After becoming human, she can change into a cat freely. She created unpredictable incidents.
Interesting Facts
Here is one of the teasers.
Here are the official posters.
You can access the original webtoon here.
This is how people see her and her real appearance.
This is the coffee shop.
Here are all the main characters.
Kang SoRa was originally part of the cast but canceled her participation in the drama.
Read More : 7 Dramas of 2018 Based On Webtoon
Read More : The Awkward CGs Of "Mama Fairy And The Woodcutter" Is Cooling Down Some Viewers

Read More : Seo JiHoon Is The Cutest Graduate Student And Caught Viewers Attention In "Mama Fairy And The Woodcutter"