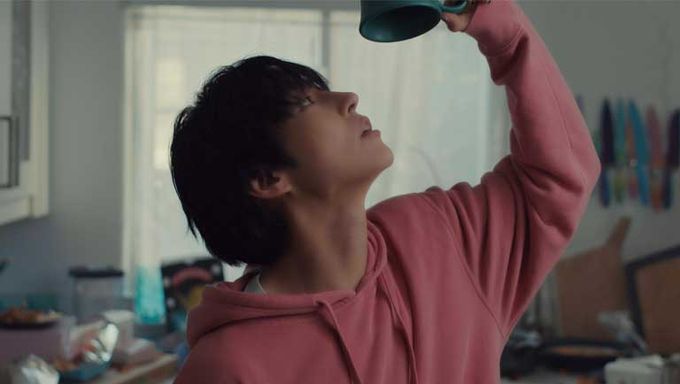 Kim WooSung, the leader of the band The Rose and vocalist who captivated the audience's ears with his unique charming voice, is back. With an impressive growth from the L.A. boy playing the guitar in "K-Pop Star" to the frontman of The Rose, WooSung gained even more recognition by showing his unique presence through "Superband" in 2019.
He is expanding his musical spectrum by producing all the songs from his solo albums and participating in various drama OSTs. However, there's more he hasn't shown yet. Through his new single 'Lazy', WooSung announces the start of his new multi-genre music journey in 2021. 'Lazy' makes WooSung's charming voice stand out with its addictive chorus and lyrics that anyone can relate to. Through 'Lazy', we can get a glimpse at WooSung's thoughts on "Laziness" and the message he gives to the world.
WooSung shared his stories with us and special vocal clips that can only be heard on Kpopmap. This special interview includes special vocal clips left by WooSung for fans all over the world who have been missing his beautiful voice. Read the interview while listening to the vocal clips.
#WooSung released his new single 'Lazy' and has a special shootout for Kpopmap readers!

Make sure to check out his music video and interview with us:
https://t.co/u41AqhLxzk@woosungofficial #Woosung_Lazy #Lazy #TheRose pic.twitter.com/qOE7Gj1Cih

— Kpopmap (@Kpopmap) July 9, 2021
Congratulations on the release of your new album. It has been a year since your last comeback with The Rose and two years since your last solo album. How do you feel about being back? What have you been up to other than working on the album?
I have been spending some quality time with my family, finally had time after about 9 years of being away so it was heartwarming. Coming back and releasing music feels right. It feels like I am in my natural state.
WooSung mentioned that his favorite song these days is 'Yellow' by Coldplay. He sang a verse of 'Yellow' for fans. Listen to the vocal clip of Coldplay's 'Yellow' sung by WooSung below.
All your fellow members are currently in the army for their mandatory service. Even if you could not be together, did you receive any feedback or support from them while working on your new song? If you got any, can you share them with us?
Yes, we talk often and message each other regularly. They were very supportive throughout, and seemed excited for the release.
We've proposed WooSung to sing one of The Rose's songs. He sang a verse of 'Black Rose' for fans. Listen to the vocal clip of 'Black Rose' sung by WooSung below.
Recently, you've started to raise an adorable dog named Woolfy. You've even filmed the music video with the dog! Is there anything that changed in your life since you've got Woolfy?
Woolfy brings joy and excitement and really motivates me to work hard to feed him food. Hahaha he gives me responsibilities as his dad.
The song WooSung wants to sing to his pet Woolfy is 'You Are So Beautiful' by Joe Cocker. He sang a verse of 'You Are So Beautiful' for fans. Listen to the vocal clip of 'You Are So Beautiful' sung by WooSung below.
You've shown different and new sides of yourself while performing with numerous artists on stage during "Superband". Is there any other artist you would like to work with or songs you want to cover?
I would like to work with Lee Nau from Superband. Create a crossover between classical and pop music.
We've asked WooSung to sing one of the songs he performed on "Superband". For fans, he prepared a verse of 'Home' of Park HyoShin, which he has sung with Lee Nau and Kim YoungSo. Listen to the vocal clip of 'Home' sung by WooSung below.
When writing lyrics or composing, we heard you are using the memos you've gathered in a memo app. We are curious to know about the memos that gave you inspiration for the new song 'LAZY'. What were there about? Also, when and how would you like people to listen to 'LAZY'?
For 'Lazy' rather than a memo it was more of how I was feeling at the time. My days were 'Fancy Fancy'. It was telling myself that I wanted to be lazy and because that was not possible at the time I wrote about it to at least feel lazy while writing the song. I don't mind however people would like to listen to 'Lazy'. It is for them to decide and that really is the beauty of music.
For fans who have been waiting for his new release, WooSung recorded a verse of 'Lazy'. Listen to the vocal clip of 'Lazy' sung by WooSung below.
Because of COVID-19, you can't tour anymore, and fans are missing you. Can you say a few words to Black Rose who are waiting for The Rose and WooSung?
1-2 years is nothing compared to the road we are walking together. Thank you for always supporting us and being patient. You won't have to wait much longer. We Rose You <3
WooSung chose 'I.L.Y.' by The Rose as the song he wanted to sing for fans he hadn't seen for a long time. Don't miss listening to the vocal clip of 'I.L.Y.' sung by WooSung below!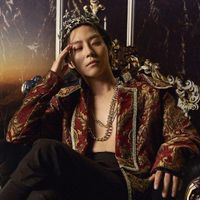 Became a fan of WooSung
You can now view more their stories